Orchid News – March 2012
Home > Orchid News > 2012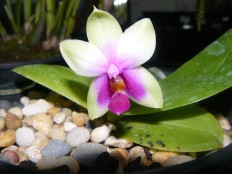 Download the newsletter as a PDF
Calendar
1 Mar – Brian Lane on Botanic Gardens
5 Apr – Orchid Tray company
27-29 – Apr – Autumn Show.
3 May – TBC
7 June – Murray Shergold – Ansellia africana
March Meeting
Our next meeting is on 1st March. The guest speaker will be Brian Lane and he will be talking about our Botanic Gardens. Our society originally met in the old Cavanbah Hall – which was on the site now occupied by the Coffs Ex-services Club.
We then moved to the Presbyterian Church Hall before moving to our present location at the Botanic Gardens in about 1984.
Brian has been an active supporter of the gardens as a volunteer and then president of Friends of the Botanic Gardens for many years.
He has been very supporting of our society.
Committee Report
The committee met at Mangrove Jacks on 7th February.  Matters discussed included
Trying to improve the table talk
Use of the library
Guest speakers
Autumn Show
Annual Membership
A reminder that annual memberships are due.  The fees are $10 per member, or $15 for a couple.  Please see the treasurer and pay this as soon as possible.  And correct money would be appreciated – it is difficult to provide change for $50 or $100 notes.
Ray Clement's Talk – Cattleya Hybrids
Cattleyas are native to South America where there are dry winters and wet summers which constitutes a humid tropical climate, very much like our northern climate here in Australia.  It is difficult to grow these orchids further south and often the seasons are reversed – dry summers and wet winters – so they have to be artificially maintained.  These plants cannot take frost and cannot survive in temperatures much below 6Õ.
Trees and sometimes rocks are their preferred medium where they get plenty of air circulation and drainage in the wet.  The root systems are like sponges, sucking the moisture from the air.  When the roots change from white to green it is a sign of good health in the plant.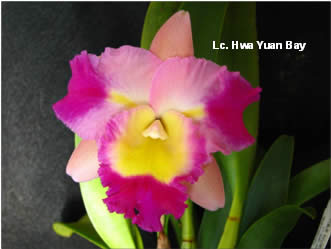 (Thanks to Ray Clements for the photographs used throughout this newsletter which have been taken from Ray's presentation.)
The majority of problems occur when the root systems stay too wet due to too fine a soil mix or not enough drainage or air circulation.   The root systems are critical to the orchid's health.  If the roots become stressed they shut off any circulation to the plant thereby causing it to starve and die.
Cattleya orchids were well known to many orchid growers,  but new knowledge of the DNA of these orchids has caused  botanists to make quite a few changes with their names – most unpronounceable to the layman.  We are glad there are still easily pronounceable names for us to recognise them by.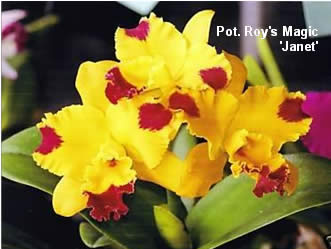 Ray showed us a wonderful slide show of the amazing variety in this family of orchids.  From blooms ranging from 10cm to 20cm across to small stunningly compact blooms.  To get large blooms on your plant requires that the leaves and roots system also be large and vigorous.  Flowers will often last between five to six weeks.
Ray's website.  www.tinoneeorchids.com is a must to visit.
His magazine 'Growers Guide' is very informative giving a very understandable guide to getting a good start for successful growing of your orchid collections.  He is always available to anyone who has questions or problems by phone, email or by visiting him at Tinonee Orchid Nursery at 768 Tinonee Road, Tinonee NSW 2430.  Ph/fax. (02) 6553 1012
Many thanks from us all for your visit and presentation.
Monthly Display Competition
We will continue with the display as at present, but we will try to make the table talk more interesting.  The person doing this will be asked to just announce the first in each category – the others will of course be listed in newsletter – and where appropriate hold up the plant so the members can see what we are talking about.
The persons doing the table talk need to speak clearly and to the members so that we can all hear what is being said.  Members are asked not to talk during this table talk so that everyone can hear.
A reminder that plants should be benched before 7.15 so that the yellow numbers can be placed by the plants for people to vote for popular plant.  Sherrill will put numbers out at 7.15.
Ron Cowling has the voting slips for popular vote.
He also has slips for members who are benching plants.  Please remember to put your name on the back of the slip when you are benching your plants.
Visiting Orchid Doctor
We will try a new service, particularly aimed at our newer growers.  Members are encouraged to bring plants to meetings to ask for advice, but sometimes it is better if someone can see where and how plants are being grown.
This year we will try a service where members, specially newer growers can contact the society, perhaps the secretary or president, and ask for an experienced orchid grower to visit to have a look at what orchids are being grown and how they are being grown.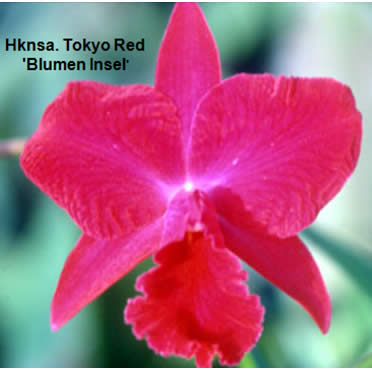 Autumn Show
It is not too early to be thinking about our Autumn Show.  What plants might you have in flower?  What do you need to do to them to present them at their best?
We've had a few speakers talking to us about preparing orchids for shows – these talks are reported in our newsletters which can be found on the web site.
Remember too that this year we are broadening the range of orchid plants that we can sell at the sales table.  We are not restricted just to flowering plants, but can also sell mature, well established plants. The sales table coordinator will be authorised to reject plants that don't meet this standard.
We will be seeking volunteers for the roster at our meeting.  It takes a lot of work to put on a successful show, but if people are prepared to help then it is easier on everyone.
Microphone
A reminder that people who find it a little hard to hear should sit nearer the front of the room.
To help with this issue we will purchase a microphone for speakers to use.
Library
We have quite an extensive collection of books in the cupboard – does everyone know where this is? – and members are encouraged to make better use of this. There are two Australian magazines dealing with orchids – Orchids Australia and Australian Orchid Review.  The society subscribes to Orchids Australia and members are encouraged to have a look at these in the library.
There will be some more information about this soon.
2012 Program
This year we will have our monthly meetings with guest speakers as usual, and we will have our two Shows.
Gordon and Brian will hold several workshops, and we plan to have a couple of home visits. We hope to do a trip perhaps to an orchid nursery as we did to Easy Orchids last year.
We are also planning to have an easy bush walk to see some Australian orchids growing in their natural environment.
It is hoped that we can finalise the details soon and put the information in a newsletter and on the web site for you.
Home Visits
This year we will have a couple of home visits where members can visit one our orchid growers to see how he or she grows orchids and to ask questions.
There might be tea/coffee, etc provided but hosts should not feel that they must provide a morning tea/afternoon tea banquet.
Glasshouses
Growing orchids became a very popular hobby for the rich in England in the early 1800s.  Some employed their own collectors to travel to South America, Asia and Africa on collecting expeditions.
These orchids had to be looked after when they were brought back to England, and since the English climate is so different to the tropical climate where these orchids were found, glasshouses were developed.
One of the most famous of the early glasshouses was the one built by James Paxton for the 6th Duke of Devonshire.
Paxton (1803-1865) became Head Gardener at Chatsworth House in 1826 at the age of 23. He had impressed its owner, William Cavendish, 6th Duke of Devonshire, whose London residence (Chiswick House) was close to Paxton's previous place of work, Chiswick Gardens. It was a fantastic opportunity for Paxton.
In the first half of the 19th century, there was intense interest in exotic plants from tropical regions and these required hothouses to survive. In 1837 work started on Paxton's Great Conservatory for Chatsworth, sited where the maze now stands. Architect Decimus Burton, who later worked with ironworker Richard Turner on the Palm House at Kew, drew up the plans.
The frame was built of iron, and the sheets of glass, each four feet long, were made to this length to avoid the necessity for overlaps. Measuring 277 x123 x 67 feet, and covering an area of almost an acre, it was at that time the largest glass building in the world. It cost £10,000, an immense sum when you consider that the Duke's head housekeeper was paid £20 per annum, and that Paxton's salary when he was first appointed head gardener was £70 per annum.
After a few years the Duke became interested in orchids, and Paxton set about building glasshouses with better heating, lighting and ventilation than hitherto available. Paxton is credited with being one of the first to establish conditions under which many orchids could be cultivated indefinitely.
Paxton also built another glasshouse of innovative design to house the Duke's giant Amazon water lily plants, which required a constant temperature of 30°C, conditions too hot for most orchids. A large pond, 33 feet in diameter, was required because each leaf of Victoria amazonica leaf grows to a diameter of 5-6 feet.
The roof of Paxton's glasshouse was designed with a sawtooth profile so that solar radiation was trapped more efficiently in the early morning and late afternoon than at midday, so avoiding overheating at that time. The design is still used in large glasshouses today but it's unsuitable for the small structures that most of us use.
Paxton's crowning glory was the design of an enormous glasshouse erected in Hyde Park (London) to house the Great Exhibition of 1851. The Exhibition's main aim was to publicise Britain's leading contribution to the Industrial Revolution.
The Organizing Committee for this event had already considered and rejected 233 previous designs, and was becoming desperate until Paxton submitted his design for a glass structure covering 18 acres, including a number of mature elm trees growing in the park. In metric terms, the glasshouse was over 500 m long, 135 m in width, and 32 m tall at the central dome. It was one of the first buildings
constructed using mass production techniques and was completed in the remarkably short time of only 17 weeks. Paxton pointed out that the design of the dome was based on the rib structure of the leaf of the Amazon water lily, which gave both the leaf and the dome great strength.
The Exhibition, regarded by many as the first of the World Expos, was deemed a great success by the public, the exhibitors, the Organizing Committee (to their surprise it made a profit!) and especially by Queen Victoria and Prince
Albert. The Queen awarded Paxton a knighthood, and the Committee paid him £5000 for his brilliant design.
After the Duke died, Paxton went on to become a director of the Midland Railway and the Member of Parliament for Coventry.
Thanks to Brian Milligan for this article.  Brian is a well known orchid grower in Melbourne and is editor of the North East Melbourne Orchid Society Newsletter.
Agenda for March Meeting
Welcome, Apologies, Visitors.
Minutes of Feb meeting – as printed in newsletter
Business Arising
Committee Report – refer to newsletter.
Inwards Correspondence
Outwards Correspondence
Finance Report – as printed in newsletter
Table talk
General business
Orchid Doctor
Show
Guest Speaker – Brian Lane talking about the Botanic Gardens.
Raffle, popular vote.
Minutes for February Meeting
APOLOGIES           Tony & Anne Dew,
MINUTES OF PREVIOUS MEETING      Mvd. Ivy Scd. Sue That minutes as printed in the newsletter be approved.
BUSINESS ARISING                Nil
CORRESPONDENCE              Deferred till next meeting
FINANCE?                               As per Newsletter   Mvd. Betty 2nd Eric  That report be approved.
GENERAL BUSINESS              Nil
GUEST SPEAKER                    Ray Clements – Tinonee
POPULAR VOTE                    Bill Bright
RAFFLE WINNERS                 Glynis Smith, Peter Baker, Gary Suter