Orchid News – September 2011
Home > Orchid News > 2011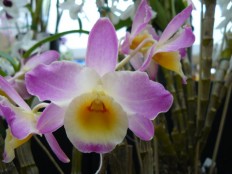 Download the Newsletter as a PDF
Calendar
1 SepEric Collins – Soft Cane Dendrobiums
9-11 SepSpring Show at Gardens
13 OctPlant Auction
3 NovAGM. Brian Newman
1 Dec Christmas and awards.
September Meeting
Eric Collins is the guest speaker at our September meeting.  Eric and Dot are long time members of our society.  Eric will be talking about how to grow Soft Cane Dendrobiums.  Some of you will remember that Eric wn the Grand Champion award at our Spring Show last year with a beautifully grown plant.
October Plant Auction
Our October meeting on 13th October will be a plant auction.  The idea is to make some good plants available to our members, and at the same time raise some money for the society.
Members are asked to donate a few good plants for the society to auction. If you have something you would be prepared to donate please see Ed Pearce.
Plants offered so far include
Coelogyne Linda Buckley – white with yellow lip
Coelogyne pandurata – green with black in lip
Coelogyne Unchained Melody – arching spray of white flowers
Phalaenopses – several plants
Zygopetalum Advance Australia – brown, purple lip
Dendrobium Hilda Poxon – large sprays of yellow flowers
Dendrobium Delicatum – white, fragrant flowers
Laelia anceps  – tall spike of maroon flowers
Spring Show
Our Spring Show is next weekend.  How are your plants looking?  What will you put in our display?  And how can you help?
The Show will be at the Botanic Gardens from 9th to 11th September.  Set up will be afternoon of Thursday 8th September. Benching of plants will be from 6 pm on Thursday 8th or 7.00 to 7.30 am on Friday 9th September.
We are making up a roster of duties to help run the Show.  If lots of people help then it is easier all round.  Our secretary Sherill will be collecting names for the roster or you can call her on 6652 4223 or 0416202080 to offer your help.
Workshop
We are resuming the workshops for new orchid growers.  They are held at the home of Gordon Clarke at 26 Pullen Street, Woolgoolga.
The next workshop will be on Sunday 28th August.  We will be talking about the difficulties of caring for orchids through the winter, and more particularly what we should do during the new growing season the get the best flowers we can.
The dates for our next workshops are 25th September and 30th October.
The workshops will cover a variety of topics like potting mix, fertilisers, pots, dealing with pests, etc.  What questions do you have?
All new and not so new growers are welcome.  We start with tea/coffee at 9.30 and workshop starts at 10 a.m. If weather is poor please call Gordon in case we have to call it off
Nominations for AGM
At the AGM in November there will be elections for
President,
Vice-president,
Secretary,
Treasurer
Three committee members.
Are you interested in any of these positions? If you're not sure what's involved speak to Ed or one of the committee. Or you might like to nominate someone. There are nomination forms available at the meeting, and on our website.  Or is there someone you would like to nominate?  Nominations must be handed to our returning officer Don Turner by 7 p.m. 3rd November.
And what of the other positions? There are quite a few other things that people do to help make this a successful orchid society.
Newsletter editor
Show Marshall
Assistant show marshal
Publicity
Librarian
Supper
Monthly Comp points
Sales table
Memberships
Raffles
Hall set – up for meetings
Program
Sponsorships
Public Officer
Web-site
Are you interested in doing any of these jobs? Or perhaps you would be prepared to be an assistant in one of these? Again if you would like some more information speak with Ed or one of the committee.
Doug Binn's Talk
Doug gave a most interesting and informative talk on Australian Terrestrial Orchids illustrated with slides
He has traveled up and down the eastern parts of Australia especially in the Riverina district in search of these most beautiful and delicate plants. Due to the amount of land clearance, drought etc there had in recent years been a noticeable decline in their population.
Since we have had such a wet season in the last year these often-endangered plants have had a quiet revival.  They are highly seasonal and usually flower in late winter and spring.  Different species do not all flower at the same time and only usually for a couple of weeks so staggered viewing times would be essential.
Doug has been making trips to the Riverina district and others for the last 10 years, 33 trips all told and seen the ebb and flow of the flowering seasons.
It was a delight to see very abundant carpets of them last year after barely making a showing in previous years.  They mostly prefer a cooler wetter environment.
He has noted over the years that many hybrids have sprung up as the pollinating wasp to a certain species have landed on another species in close proximity by mistake and created the new hybrids.
These Australian native orchids rely on a certain type of fungus in the soil to grow and this is why after taking these plants from the bush they do not survive for very long. They will get smaller each year as the fungus remaining in the soil gets used up.  It is an extremely delicate balance not easily replicated by the average grower.
Many species are on the endangered list  the Yellow Donkey Orchid being one of these but in recent times and optimum growing conditions has seen a resurgence.  In Gunadah a new plant has been found.  Only 12 in total and even these have variables amongst them.
There are between 50 to 100 species in Australia. If anyone is interested in learning more or even visiting these sites Doug is more than happy to help.
Agenda For September Meeting
Welcome, Apologies, Visitors.
Minutes of August meeting – as printed in newsletter
Business Arising
Committee Report – see newsletter
Inwards Correspondence
Woodburn Orchid Society annual spring show Friday to Sunday 16th to 18th September at Woodburn Memorial Hall
Letter from  Botanic Gardens about increase of hall hiring rates.  Evening $25 Half day $25 Full day $40
Grafton District spring Show Thursday to Saturday 22nd to 24th  September at Grafton Shopping World.
Australian Orchid Review
BCU Statement
Xerox tax invoice
OSNSW e-mail newsletter
Outwards Correspondence
Finance Report – see newsletter
Sponsors Spot – Ludos Old Wares.
Table talk.
General business
Auction
AGM
Show
Guest speaker
Raffle, popular vote.
Minutes for August Meeting
Ed welcomed members and our visitor Robert.
APOLOGIES: Tracy King, Christine Snow, Jan Brinkhurst, Brenda Mayled, Jason Slaviero, Barbara Pearce, Judy & Ron Cowling, Diane Blay, Pat King, Ken Green, Dulcie McBain.
Minutes Mvd: Sue Scd: Betty that minutes as printed in the newsletter be approved.
Correspondence In:
City of Lismore Orchid Society Inc – Spring Show at Lismore Centro shopping centre 8th, 9th, and 10th September 2011
Maclean District Orchid Society – Spring Show 30th September  & 1st October at Maclean bowling club auditorium 29th  & 30th September and 1st October 2011
Kempsey Speciosum Spectacular and Australasian Orchid species and Hybrid show. 3rd  & 4th September 2011at 57 Spooners Ave Greenhills via Kempsey.
Coffs Harbour Orchid Society Inc. Spring show 9th to 11th September 2011 at Coffs Harbour Botanical Gardens.
Receipt from 2AIRFM for membership payment.
Statement from Xerox
Statement from Australian Orchid Society.
Correspondence Out:
Sending get-well cards to Ken Green and Judy Cowling.
Mvd: Don Scd: Norm that inwards correspondence be received and outwards correspondence approved
Finance report explained by Bruce.
Also a request by Bruce to keep the raffle currency Australian as the bank will not accept NZ or other currency.
Mvd: Bruce Scd: Steve that report be approved
Sponsors Spot:  Fitzroy Motors are offering a 10% discount to our members off labour costs.
General Business:
A reminder that our Spring Show will be held on the second weekend of September.
Working bee for the painting of the display boxes – volunteers required for this task to be completed before the show.  Anyone willing to assist please notify Don Turner.
Volunteers for helping with the show.  Setting up and taking down, sales table and raffle table volunteers.
We have had more posters to advertise the show printed for display if you have a great place to promote it.
Ribbons and trophies have all been ordered.
Sherill has volunteered to do show cards.  If there is anyone who has excellent penmanship skills please see her to assist.
We will be requiring the donation of worthwhile additions for the show raffle.  Please bring along to the next meeting or let Ed, Bruce or Sherill know.
Our plant auction will be held in October so any members who have good plants to donate to help raise funds for our society please contact committee.  We hope to have cash, cheque and eftpos facilities available on the night.
A big reminder to get tickets in the Woolgoolga Raffle at $1 per ticket a very good prize to be won.
Bellingen show is asking that anyone who has plants they can enter to help could they please make sure they are entered.  They would very much appreciate the input from any of us who can contribute.
The Newsletter is mailed and posted – could you please let us know if you have not received one and also if we have all your details correct.
Beginners classes will start again at the end of the month at Woolgoolga.  Call Gordon on 6654 2553 for any information.
Table Talk:  Ivy Wheeler
Popular Vote: Won by Silesa Ronolo-King
Guest Speaker:  Doug Binns
Raffles won by: Robert (our visitor) and Sherill
Understanding Oncidiinae
Part 3 – That Brassia Group 
As I am running out of space this month, I will discuss the last two groups together. The Brassia group, which mostly come from Central America, and the north of South America, are characterised by quite large spidery flowers. The flowers of verrucosa are at least 15 cm from top to bottom and other species can be up to 30cm.  Most are cold growers, and very easy to grow, and as you can imagine, they make spectacular hybrids with other Oncidiinae members. Most Brassias are cream or green with various brown markings but the one really unusual member of the group is the brilliantly orange Ada aurantiaca. The flowers of this one appear tubular, but it is really more like a not fully opened form of the basic spidery Brassia.
The Miltonias are quite different. The genus originally contained two distinct types. The ten or so species that we called the "Brazilian Miltonias", because they nearly all came from there, and a group of quite different species (the Pansy Orchids) from further north in the mountains of Colombia. The latter were eventually moved to their own genus "Miltoniopsis". This name is now accepted by all experts, but in general orchid talk, they may still sometimes be just referred to as Miltonias. The Pansy orchids are quite beautiful and have been hybridised among themselves, and sparingly amongst other genera, to produce an amazing variety of colours and patterns. However, Miltoniopsis species and their direct hybrids are not easy to grow well, and are not orchids for the beginner.
The Brazilian Miltonias on the other hand, are as tough as boots. Most grow well in baskets hung under trees in Sydney backyards, and they have nice 8 to 10cm, showy flowers. The term Brazilian is somewhat incorrect today because a few species are now included that come for other locations. For example, Milt. warscewiczii (Costa Rica to Peru), was until quite recent times known as Oncidium fuscatum. It has been an important species in hybridisation for a long time and is one of the species responsible for the famous Colmanara Wildcat and many other lovely orchids.
Probably the most famous species in the Brazil group is Milt. spectabilis, but it is best known for one select colour variety called "Moreliana". The normal form is quite pretty in its own right, with 10cm pale pinkish flowers and a slightly darker, veined lip, but everyone wants to grow the dark form, with plum black sepals and petals and a deep mauve pink lip. The correct name for this is Miltonia spectabilis variety Moreliana. And while we are on the track of correct expression, there is one Miltonia that is continually misunderstood, and often benched as a species. It is the naturally occurring hybrid between Miltonia spectabilis and Miltonia clowesii that is known as Miltonia x bluntii. In orchid language, genus names and hybrid names commence with a capital letter, species names commence with a lower case letter. There is one exception, and that is in relation to hybrids that occur naturally in the wild. They were often collected and originally named as species until it was realised that they were actually natural hybrids. So, they are treated as a special case. Their hybrid name is preceded by a lower case x, and the hybrid name is in lower case.
Now that you have an overall picture of the groups, and a concept of the various species, we will move on next month to the much more complex story of the Oncidiinae intergeneric hybrid world. A world of many different focuses. Some are designed along the classic round lines of Odontoglossum nobile, others focus more on colour and visual impact, but it is a world with something for everyone.
Original Members
We were delighted to see some of our early members at the 40th anniversary luncheon.
Shows
The Bellinger Valley Orchid Society had a successful show on 20th August.  The weather wasn't too bad and there were plenty of flowers on display.  Congratulations to Dick Cooper for winning Grand Champion with a Zygo, and to Graham Beaton for winning the Reserve Champion.
And remember that the Woolgoolga Show will be held on 8th October
Committee Report
The August committee meeting was held at Ed's.  The matters discussed were
Arrangements for the Spring Show
A plant auction for our October meeting – this will be the first time we've done this
Notices regarding the AGM
There is information about each of these matters elsewhere in the newsletter, and they will be mentioned at the meeting.