Orchid News – August 2011
Home > Orchid News > 2011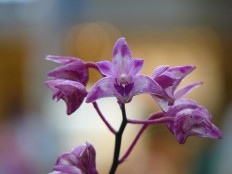 Calendar
4 AugDoug Binns – Australian terrestrial orchids
1 SepEric Collins – Soft Cane Dendrobiums
9-11 SepSpring Show at Gardens
13 OctPlant Auction
3 NovAGM. Brian Newman
1 Dec Christmas and awards.
August Meeting
Our guest speaker for the meeting on 4 August will be Doug Binns. Doug will be talking about Australian terrestrial orchids.
Spring Show
Our Spring Show is now just one month away.  How are your plants looking?  What will you put in our display?  And how can you help?
The Show will be at the Botanic Gardens from 9th to 11th September.  Set up will be afternoon of Thursday 8th September.
Workshop
We are resuming the workshops for new orchid growers.  They are held at the home of Gordon Clarke at 26 Pullen Street, Woolgoolga.
The next workshop will be on Sunday 28th August.  We will be talking about the difficulties of caring for orchids through the winter, and more particularly what we should do during the new growing season the get the best flowers we can.
The workshops will cover a variety of topics like potting mix, fertilisers, pots, dealing with pests, etc.  What questions do you have?
All new and not so new growers are welcome.  We start with tea/coffee at 9.30 and workshop starts at 10 a.m. For further info call Gordon on 6654 2553.
Vale Glad Fleming
We were saddened to learn of the tragic death of Glad Fleming in a traffic accident on 16th July.  Glad was a life member of the society, and served 14 years as treasurer.  She also looked after the sales bench at shows, and did the registration of entries.  Glad pitched in to help wherever needed and was a stalwart of the society.
She grew a wide variety of orchids in a small space behind her apartment – it was amazing to see how she fitted so much into such a small space.
40th Anniversary Luncheon
Well what a wonderful day.  I know from talking to others who attended that they enjoyed it immensely.  The pre lunch interlude was spent viewing some lovely specimens and keeping warm by the heaters with drinks and nibbles while catching up with everyone.
We must thank David Banks heartily for a most interesting, informative and at times amusing at talk.  He made the time fly and many would have liked him to keep going.  He made one feel like they wanted to go home and really get stuck into their orchids with a passion.  The Dracula orchids particularly took my fancy and I could only have wished they could have been attached to a tree in the back yard, but alas they are 'precious petals' and much like Dracula himself need an extremely controlled environment to survive.
During the luncheon the society made a presentation to Steve Clemesha in recognition of 35 years active service.  Steve joined the society in 1975 and became secretary in 1980.  Over the next 30 years he was secretary, president and then vice-president.
The surroundings and food and service were really excellent and we give our thanks to Novotel for making our day special and run like clockwork.
Our committee worked hard to get this to be a memorable day especially Ed who I am sure made many, many phone calls.  It was wonderful to have so many members attend and many whom we haven't seen for some time.
Dick Cooper's Talk
What he wanted to mainly cover were the general principles by which judging is done and what can be done to enhance the showers chances of presenting a prize orchid.
Before orchids can be brought along for showing they must be free of pests and diseases to ensure that other plants have the best chance of staying healthy.
Points he noted for us were;
The shape of the orchid flower and presentation is considered for the best for its Section and or Class.
Each flower should be clearly visible with as little overlap or crowding by other blooms on the stem so the flowers are shown to their best advantage
Colour must be of a clear quality, not "muddy".
Background and family genre must be clearly noted on the labelling
If plants are to be "pointed up" for an award – FCC, AM or HCC – points are given out of 100 with many varying percentages as the blooms go through first, second and third placing.
Often a good sign of healthy blooms is a sparkle in the petals as light hits them.
Plants stems and blooms need to be able to stand strong with minimum staking.
It doesn't always follow that biggest is best and strength and colour are very important.
Sometimes the flower sheaths can turn a bloom in the wrong direction and they can be taken off to allow for better presentation.
It is good to know that you cannot tie any part of the actual flower to the stakes, some judges do not like the use of large clips either and can lose points for you.
For anyone who is really interested in showing his or her orchids seriously Dick's talk would have been of much interest.
We thank him for his time and knowledge in speaking to us tonight.
Agenda for August Meeting
Welcome, Apologies, Visitors.
Minutes of June meeting
Business Arising
Committee Reports – see newsletter
Inwards Correspondence
Outwards Correspondence
Finance Report – see newsletter
Sponsors Spot –
Table talk.
General business
Show
Guest speaker
Raffle, popular vote.
Minutes of July Meeting
Ed Pearce welcomed the 32 members present and expressed sadness at the untimely death of Glad Fleming. He said a few words out of respect for Glad and her wonderful contribution to the Orchid Society. A minute's silence was observed in her memory.
Apologies were received from K & N Mitchell, G & D Small, Ken & Dulcie, Brian Moore, Selisa, Pam & Graeme, Diane Blay, Pauline G, and Judy Cowling.
Our visitor tonight was Tracy King
We welcomed Janice Brinkhurst as a new member.   Jan has come to Coffs Harbour from New Zealand.  She has settled in and just loves the climate here.  At the moment she only has one orchid though has graduated to two after receiving another as a new members welcome gift.  Be prepared for lots of questions from her as she is very keen to learn as much as possible as she finds them all quite exquisite. She feels privileged to become a member and looks forward to the monthly meetings and shall enjoy the chance of meeting people and being a help to the club in any way she can in the future.
A warm welcome to you Jan and we hope you enjoy being a part of us.
Mvd Don, Scd John That the minutes of our June meeting as printed in the newsletter be approved.
No business arising.
CORRESPONDENCE IN
Tax Invoice/Statement from Regional Publishing
BCU Statement and Investment Certificate
Statement from Pepperprint printing
Statement from Xerox Business Centre Mid North Coast
Gardens of New Zealand information on Tours.
Australian Orchid Council Membership request
Keith Wallace Pty Ltd Cymbidium seedling catalogue
Alstonville Orchid Society Inc Annual Spring Show.
Bellinger Valley Orchid society Sixteenth Annual show 20th August.
Thank you note from Bernie Hoffman's family
CORRESPONDENCE OUT
Letters to neighbouring societies notifying them of our Spring Show due to the change of venue and dates.
E-mail thanking David Banks as our guest speaker.
Mvd Brenda, Scd Ivy. That inwards correspondence be received and outwards correspondence be approved.
Sponsors Spot – A request to please support our sponsors who help make so make so many things possible.  Ed spoke on behalf of our sponsor Mangrovejacks.   That is one of his most favourite spots to unwind.  Sitting in the morning sun watching the water meander by while enjoying a very well made coffee.
Table talk was presented by Gary Suter Thanks to Gary and other judges Tracey Suter and Carole Davis.
General Business:
A reminder that our Spring Show will be held in the 2nd week of September and our venue this year will be at the Botanical Gardens as we are unable to set up at the Plaza.
We are in need of someone who has volunteer for writing up the winners place cards for the Spring Show.  If you think you can do this please contact Ed, or Sherill.
Posters to advertise the Spring Show were made available for anyone who can put them in their car or a prominent place.
Gift Certificates for Easy Orchids have been offered at a 10% discount off the certificate value.  We will be having an excursion to Easy Orchids later in the year so these may come in very handy for those who would like to purchase any plants or supplies.
Ed called for any orchids that were on display that could be cut and left for Glad for a bouquet.
Woolgoolga Orchid Society has a raffle going that anyone is welcome to purchase tickets for.
Bellingen Orchid Society is on the 20th August and a one-day show only. Accepting plants on the 19th and up until 7:30am on the 20th August.  Please try and get out to see what is usually an amazing display as a support to them.
At the 40th Luncheon Ivy Wheeler had some wonderful and unusual orchids, she brought in some for sale to anyone interested.  She still has a few if you didn't get one on the meeting night and only have to call her to arrange for it to be brought in at the next meeting.
A request for volunteers to paint the boxes the Orchids are placed on at the show will be made shortly to have it all done by September.  If you are able to help please let Ed or Sherill know.
Ed noted that in relation to the shows plants were set out in Sections then classes of those species.  Prizes were awarded for
Best of each Class
Then Best overall in each Section
Also Grand Champion for best in the Show
Plus a second best prize
Special prizes are given for e.g. best novice's orchid, best specimen, etc.
Guest Speaker:
Tonight we had the pleasure of having Dick Cooper come and explain how judges judge the Orchids at the shows.
Popular vote was won by Pat and Peter King for their excellent devonianum influenced pendulous Cymbidium.

Understanding Oncidiinae
This is a second part of an article by Jim Brydie from Kuringai O.S. regarding orchid classification and especially the Oncidiinae Alliance.  It is quite detailed and may not be for everyone.   This follows on from the article in the July newsletter.
PART  TWO.
3.) Groups within the Sub-tribe. At the risk of confusing you even further, it is a fact that some of the genera within Oncidiinae are more closely related to one another than they are to others, even if the less related groups may also interbreed. For example, as I mentioned above, many of the genera we recognize today, were created to host species that were being split off from one of the older, larger genera like Oncidium or Odontoglossum. Obviously, they are therefore very closely related to species in their old genus.
Within Oncidiinae, the 4 most important groups by far are:
Odontoglossum Group – Aspasia, Cochlioda, Cuitlauzina, Lemboglossum, Odontoglossum, Osmoglossum, Rossioglossum, Rhynchostele, and perhaps to a lesser extent, Trichopilia and Diadenium
Oncidium Group – Oncidium, Tolumnia, Trichocentrum (or Lophiaris), Cyrtochilum, Zelenkoa, and perhaps to a lesser extent, Comparettia, Ionopsis, Rodriguesia, Sigmatostalix, and Lockhardtia
Brassia Group – Brassia, Ada
Miltonia Group – Miltonia, Miltoniopsis
I can't say that every species within each of these groups has a common appearance or even a similar appearance, but as you gain experience with orchids, I am sure that you will come to agree that there is a recognisable look to most species that immediately tells you about their "group" and their closest allies. I can't show you all species in the following picture sets, but I hope that what I have selected may help you see the commonality of these "looks".
Odontoglossum Group.
When you say "Odontoglossum", most people immediately picture Odontoglossum nobile or its close cousin O. crispum, and their hybrids. The round, filled in, very attractive flowers of these species, have obviously been very popular with growers and hybridists and have become almost an orchid 'type' of their own. But, they are not exactly typical of the other 60 Odontoglossum species, or the many species of the other genera in the Odontoglossum group.
The species in this group do tend to have flowers that are roundish in outline, but many are starry, with narrow sepals and petals. There are quite a few species in pinks and whites, but it may surprise you to hear that the majority come in brown and yellow tones, although not in the same way as the typical yellow and brown Oncidium, as you will immediately see in comparison to the Oncidium group pictures below. The Odontoglossum group also generally have larger and softer looking flowers than Oncidiums.
At the risk of over-generalising, Odontoglossum group species come from relatively high altitude areas with reasonably consistent rainfall. They don't like Sydney's hot, low humidity summers, and many don't like it too cold either. That doesn't mean they are particularly hard to grow, but they aren't really 'hang out under the trees in the backyard' plants either. They need a little understanding, and culture adjusted to suit their needs.
One species worth individual mention is the brilliantly coloured Cochlioda noezliana. It is the only red species in the group, and has been used extensively in hybridisation to introduce red colours to the hybrid Odontoglossums and other hybrid Oncidiinae.
Oncidium Group.
The lip is often the most prominent feature in many Oncidium species, but varicosum variety Rogersii is the Queen of the Oncidium lips, and has been used extensively to develop this feature in hybrids. Still, not all Oncidiums, or other group species, have monster lips. You can see from its picture, that Cyrtochilum macranthum has a small lip, although the flower is clearly a close relative of the Oncidiums. What you can't see from macranthum's picture is that it has a 3 to 6 metre vinelike inflorescence that twines its way across and up any nearby shrubs/trees. A climbing inflorescence is a characteristic of Cyrtochilum, and it uses this feature to get its flowers higher into the canopy where its pollinators are present. After flowering, instead of dying back, the bare inflorescence often produces multiple keikis (baby plants) from dormant eyes, and these plants eventually colonise the higher areas of the tree.
There are also quite a number of miniatures in the Oncidium group. The "Equitant" Oncidiums, which are now known as Tolumnia, mostly come from the West Indies. They are twig epiphytes on shrubs and have adapted to a quite dry environment. They have a unique fleshy leaf that is more or less triangular in cross section, but it is their highly coloured flowers that draw orchid growers to them. The collage above shows something of their range.
Another miniature is the cute Onc. chierophorum which is behind all the Oncidiums Twinkle hybrids these days.
Oncidiums generally come from drier areas than the Odont. group, and usually need to be given a winter rest.
An Endangered Orchid
This article appeared recently in the Melbourne Age.
A TINY, endangered orchid that is inconspicuous even when it flowers in the spring could force the closure of Canberra's oldest operational cemetery.
The Prasophyllum petilum or Tarengo Leek Orchid is known to appear in only two places – Hall Cemetery, and the NSW town of Boorowa. But although it only exists in Hall because of the presence of the bush cemetery, its highly threatened status means any burial activity has to be restricted
The ACT Public Cemeteries Authority is asking Hall residents who hold burial rights to plots in the cemetery to consider shifting their rights to a plot further away to help save the orchid
A report from the ACT Environment and Sustainable Development Directorate has also supported the recommendation that the cemetery, which holds only three or four burials a year, be closed for the sale of new allotments.
A report from the ACT Environment and Sustainable Development Directorate has also supported the recommendation that the cemetery, which holds only three or four burials a year, be closed for the sale of new allotments.
Mr Horne said he'd been advised that digging graves and burying humans in an area that could damage the orchids or their habitat could amount to a breach of the federal Environment Protection and Biodiversity Act.
The cemetery plans to apply to expand the cemetery into an adjacent block.
Original Members
We had some original members at our luncheon.  Len Hutchings was our first president, and Jim and Ruth Rae were original members.  These people were actually members of the previous Horticultural and Orchid Society (after we separated to become the Orchid Society the Horticultural Society became the Garden Club.)
Other early members were Sandy and Ollie Anderson.  Sandy ran an orchid business – Bananacoast Orchids – specialising in soft cane Dendrobiums.  Sandy was also president and had several terms as vice president.
Committee Report
We held our July meeting at the Novotel on 13th so we could check out the arrangements for our luncheon.
Naturally the main item discussed was the luncheon.  We also discussed early arrangements for the Spring Show, especially schedule and advertising.