Orchid News – July 2011
Home > Orchid News > 2011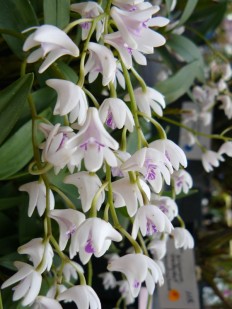 Calendar
16 July40th Anniversary Luncheon
21 July – Dick Cooper on Judging
4 Aug – Doug Binns – Australian terrestrial orchids
1 Sep – Eric Collins – Soft Cane Dendrobiums
40th Anniversary Luncheon
A reminder that the 40th Anniversary Luncheon will be held at the Novotel on 16th July. Tickets cost $25 and MUST be purchased before 9th July. See Ed, Sherill or Bruce for tickets.
There will also be an orchid display at the luncheon. Members are asked to bring their orchids – maximum 5 plants per member – between 11.30 and 11.45. These plants will be judged and a trophy will be awarded for the best orchid.
July Meeting
Our guest speaker for the meeting on 21 July will be Dick Cooper. Dick is an experienced judge and he will talk about what judges look for and how they choose the best orchid at a show.  We will have a few orchids there and he will explain why one is better than another.
July Meeting Date
Our July meeting will be on 21st July, not first week of July, because of school holidays when the hall is not available to us.
June Meeting Guest Speaker – Ivy Wheeler
Ivy has recently returned from a 10 day visit to Taiwan Orchid Show with friends.  She presented for us tonight a PowerPoint show of all the wonderful orchids on display she and now us were completely overwhelmed by the sheer magnificence of it all.
It cost about $3000.00 to do the trip with just about every requirement covered even guides on the buses.  She would highly recommend that if you can make it, it is worth the trip to the 2012 show, or even the Singapore orchid conference in September 2011.  They also stayed at a Monastery which they felt had the hardest beds they had ever slept on but fabulous vegetarian food and displays of orchids everywhere to die for.
There were a great number of Phalaenopses, Slipper Orchids and Cattleyas with many colours featured she had never seen before.  Walking round for two days was not even enough time to cover seeing all the exhibits.  Each exhibit was set out to maximise the full splendour of the plants and they came from a number of different countries.  It was really something to see the large amount of flower heads on each plant. The judging was done very differently by judges dropping their choices into a ballot box.
The sales table looked as wonderful as the show plants and prices ranged from $6 to $10 each. Ivy doesn't know how but found that 15 new plants had followed her home.
One of the visits they made while there was to Taipei Flower Market.  The rooms held long benches each held plants of a single colours.
It was a very inspiring PowerPoint show and let us all know to what extent orchids could be grown.  Here's hoping for all of for future blooms.
Bellingen Orchid Show
We would like to confirm that the Bellinger Valley Orchid Show is on Saturday 20th August at the Uniting Church Hall on the corner of Ford and Hyde Streets, Bellingen.  Benching is from 2 to 7 pm on Friday 19th , and 6 to 7.30 am on 20th.  Show is open to public 10 am to 4 pm.
For further information contact Ken Green on 6653 3210.
Agenda for July 2011 Meeting
Welcome, Apologies, Visitors.
Minutes of June meeting
Business Arising
Committee Reports – see newsletter
Inwards Correspondence
BCU Statements.
Friends of Gardens hall hire statement/invoice
Nambucca Valley Orchid society spring show – Setup and judging Wednesday 31st August at 7:pm. Open to public Thursday 1st September to Saturday 3rd September 2011 9am to 4pm
Tinonee Orchid open day and show – Benching 9am to 5pm Saturday 9th July and 8am to 9am Sunday 10th July – Open day 10am to 3pm 10th July 2001.
2AIRFM newsletter and membership renewal.
Outwards Correspondence
Get well card to Pat Wallace sent by Bruce – out of hospital and on the way to recovery
Finance Report – see newsletter
Sponsors Spot –
Table talk.
General Business
Guest speaker. – Dick Cooper talking about judging and judging standards.
Raffle, popular vote.
Minutes for June 2010 Meeting
Apologies – Pauline, Brian Moore, Ron & Judy, Eric & Dot, Pat King, Carol Davis
Visitors – Janice Brinkhurst
New Members –
Trish Rhoades – Born in Coffs Harbour and considers it to be the best place to live. Loves orchids and is willing to pick our brains and learn as much as she can.  Her son will be building her an orchid house as soon as she can get the best instructions from any of our knowledgeable members.
Tom Denison – was born in Narrabri and moved to Coffs Harbour in 2003 from Mossvale.  He decided to join our society after coming along to the autumn show.  The wonderful display encouraged him to advance his own interest in orchid growing.
Minutes of February Meeting – Mvd, Sue Scd, Betty That report be approved
Business Arising –. Nil
Inwards Correspondence – Mvd. Don Scd, Brenda
BCU Reports
Friends of Botanic Gardens Newsletter
Outward Correspondence
Finance Report Mvd. Bruce Scd. Betty That report as printed be approved.
Sponsors Spot – Easy Orchids – they have donated $300 worth of gift vouchers for the society to help raise funds.
Table Talk – Thanks to Steve and judges
General Business
Just a reminder that tickets for the 40th Anniversary will only be available till the 9th July as numbers for settings must be in by then.
Request to ensure lights are on for night time meetings in the car park.
If anyone would like to hear a talk on Bees there will be very informative presentation at the Uniting Church at Bellingen on the 20th June at 10am through Bellingen Orchid Society.
Guest Speaker – Ivy Wheeler talking about her trip to Taiwan Orchid Show this year.
Raffle, Dulcie, Barbara Hunt, Selisa
Popular Vote – Ivy Wheeler – for her plant from the Americas called Neolauchea she was given 5.to 6 years ago.
Understanding Oncidiinae
This is an article by Jim Brydie regarding orchid classification and especially the Oncidiinae Alliance.  It is quite detailed and may not be for everyone.   This follows on from a talk that Murray Shergold gave us last year about these orchids, and goes into taxonomy in more detail than I did in my talk "What is an Orchid?" earlier this year.
PART  ONE.
Introduction
I hope that using a taxonomic term like Oncidiinae isn't too big a turn off. I toyed with the idea of calling this article 'the Oncidiums and their relatives' but I wanted to avoid over emphasising the place of the genus Oncidium itself, and really, Oncidiinae is a commonly used term in benching orchids at meetings and shows. If you will read on with patience, I hope I can help you understand why it should be used.
So what exactly is Oncidiinae (pronounced onc-id-ee-in-ay)? Well for starters, it encompasses a huge group of popular, very showy, and mostly easy to grow orchids. Unfortunately, the rest of what you need to know requires a brief explanation of the orchid family itself. The following is based on Robert Dressler's 1993 interpretation of the relationships among orchids, that is, within the plant family Orchidaceae. Dressler describes 5 Sub-families within Orchidaceae, but only 2 of the 5 are of much interest to most orchid growers. The other three mostly cover ground orchids, including the Australian genera Pterostylis, Thelymitra, and Diuris etc.
The two Sub-families that are of more interest however, are:
The Cypripedioideae – which includes all the slipper orchid genera (Paphiopedilum, Phragmipedium, Cypripedium etc).
The Epidendroideae – which covers virtually all the epiphytic orchids and quite a few others as well.
As you might guess from the above, Epidendroideae (pronounced Epi-den-droid-ee-ay) is a huge Sub-family. It covers about half of all the orchid species, and the name doesn't mean that they are all cousins to Epidendrums. The word Epidendroid just refers to the epiphytic nature of many orchids. It comes from 'epi' a Greek preposition meaning above, on, over, nearby, upon, or outer, and 'dendroid' meaning related to trees or shrubs.
Anyway, Dressler divides Epidendroideae into more broadly related groups called "Tribes" and then divides Tribes into Sub-tribes. It is at the level of Sub-tribes that we see groups of genera that are often sexually compatible and where hybridists have created some very interesting hybrids between different genera.
There are 17 Tribes within Epidendroideae, but just 6 of these cover the vast majority of the ornamental orchids we see at meetings and shows. These 6 are :
Dendrobieae Tribe which includes the popular genera Dendrobium and Bullbophyllum as well as many others,
Epidendreae Tribe which includes Cattleya and its relatives, but also others like Masdevallia and Dracula.
Vandeae Tribe which covers all the monopodial (pseudobulbless) orchids like Vanda, Phalaenopsis, Sarcochilus etc.
Cymbidieae Tribe, covering Cymbidium, Catasetum, and Ansellia, among others.
Coelogynieae Tribe, including Coelogyne, and Dendrochilum, and finally,
Maxillariaea Tribe which includes such diverse genera as Oncidium, Stanhopea, Maxillaria, Zygopetalum, Lycaste.
Clearly, the Maxillarieae Tribe is the one we need to discuss further, and yes, you guessed it, one of its Sub-tribes is the "Oncidiinae", the term I used in the title.
So the Oncidiinae is a Sub-tribe in the orchid family. It contains about 77 genera and over 1200 species so it is no small bunch of orchids. They are diverse enough to include epiphytes (grow on trees), lithophytes (grow on rock surfaces), and terrestrials (grow in or on soil). Many are what we call 'twig epiphytes' in that they are very small plants that grow on the outer branchlets of trees and shrubs, and sometimes even on the wire of fences. Interestingly however, all the genera within Oncidiinae are pretty closely related, and even where the chromosome counts are different, the species within the Oncidiinae will often produce viable seed when cross pollinated. Not all such crosses give useful offspring, but breeding within Oncidiinae has certainly created an amazing variety of lovely orchids.
Commonly Seen Genera. Less than half of the 77 genera in Oncidiinae are generally seen benched, or are used in hybridisation. I have listed about 30 of the more commonly encountered genera below, but even some of these are quite rare in orchid collections, and there would only be 15 or so (the underlined ones) that are ever seen regularly.
Ada, Aspasia, Brassia, Cischweinfia, Cochlioda, Comparettia, Cuitlauzina, Cyrtochilum, Diadenium, Gomesa, Ionopsis, Lemboglossum, Lockhartia, Lophiaris, Macroclinium, Mexicoa, Miltonia, Miltoniopsis, Notylia, Odontoglossum, Oncidium, Osmoglossum, Psychopsis, Rodriguezia, Rossioglossum, Rhynchostele, Sigmatostalix, Tolumnia, Trichocentrum, Trichopilia, Zelenkoa
Some genera are in a state of flux at present, as taxonomists reconsider which species should be removed from the older genera and how they should be re-grouped. Either under a new genus name or among others in existing genera. For example, what were originally considered to be the Mexican Odontoglossums, were first moved to Rhynchostele and later to Lemboglossum. You may find species like Lemb. bictoniense listed in books or on the internet under any of these 3 genus names. Similarly, the mule ear Oncidiums (eg O. lancianum) may be listed as Trichocentrums or Lophiaris. This can be confusing but just keep an open mind and don't change your labels too quickly.
Committee Report
The June committee meeting was held at the Novotel so we could look at the venue for our luncheon on 16th July.  Matters discussed included
Planning for luncheon, contacting people, setting up room, etc
Arrangements for Spring Show – schedule, cards, etc
Brainstorming ideas for discussion at future committee meetings.