Orchid News – June 2011
Home > Orchid News > 2011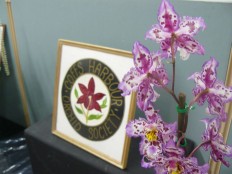 Calendar
2 JunIvy – Taiwan Orchid Show
16 July40th Anniversary Luncheon
21 July – Dick Cooper on Judging
4 Aug – Doug Binns – Australian terrestrial orchids
1 Sep – Eric Collins – Soft Cane Dendrobiums
40th Anniversary Luncheon
A reminder that the 40th Anniversary Luncheon will be held at the Novotel on 16th July. Tickets cost $25 and MUST be purchased before 9th July. See Ed, Sherill or Bruce for tickets.
There will also be an orchid display at the luncheon. Members are asked to bring their orchids – maximum 5 plants per member – between 11.30 and 11.45. These plants will be judged and a trophy will be awarded for the best orchid.
June Meeting
Our guest speaker for the meeting on 2 June will be Ivy Wheeler. She will be talking about her trip to the Taiwan Orchid Show earlier this year, and showing us pictures of some of the orchids she saw.
July Meeting
Our July meeting will be on 21st July, not first week of July, because of school holidays when the hall is not available to us.
Autumn Show
Congratulations to members for the terrific display of orchids we had for our Autumn Show at the end of April. The weather was against us on Friday and Saturday, but we had lots of visitors on Sunday.
Despite the concerns that it was a strange season and some of us didn't have many plants in flower, we had 25 more plants on display than last year. There were 27 members who had plants for our display, and 21 people won class prizes. It was very good to see prizes shared around and that 9 different people won section championship ribbons.
Particular congratulations to Norm and Kay Mitchell for winning Grand Champion with their Novelty Laeliinae, and to Brian Newman for winning Reserve Champion with his Zygoneria.
It takes a lot of people to make a successful show. Thanks to Ivy Wheeler for her work as Show Marshall, Bill Bright as her assistant and the others who helped Ivy with the display. Thanks too to all those who helped set up the hall, who sold raffle tickets, supervised the display and worked on the sales table.
And particular thanks to those who stayed behind after the show to help pack things up.
Show Results
Reserve Champion – B Newman
Champion Specimen – N&K Mitchell
Section A – Cymbidium
Miniature and intermediate1st B. Moore2nd B. Moore
Champion Cymbidium B.Moore
Section B – Laeliinae
100mm and over1st G. Clarke2nd S. Williams
60 mm to 100mm1st G. Clarke2nd G. Clarke
Under 60 mmnil
Cluster hybrid1st I. Wheeler2nd I. Wheeler
Novelty1st N&K Mitchell2nd S. Williams
Champion Laeliinae N&K Mitchell
Section C – Phalaenopsis
Exhibition – white or pink1st G. Clarke
Any other colour over 60 mm1st G. Clarke2nd G. Clarke
Any other colour under 60 mm1st G. Clarke
Champion Phalaenopsis G. Clarke
Section D – Vandaceous
Over 60 mm1st E. Pearce2nd J. Sidebottom
Under 60 mm1st G. Clarke2nd S. Ronolo-King
Champion Vandaceous E. Pearce
Section E – Paphiopedilum
Standard1st P&P King2nd I Wheeler
Maudiae typenil
Hybrid multifloralnil
Phragmipedium1st I. Wheeler
Champion Paphiopedilum P&P King
Section F – Dendrobium (not native)
Hard cane over 50 mm1st B. Southwell2nd B. Hall
Hard cane under 50 mm1st E&D Collins2nd K. Green and D. McBain
Spatulate1st E&D Collins2nd E&D Collins
Any Other Dendrobium (not native)1st E&D Collins2nd B. Newman
Champion Dendrobium B. Southwell
Section G – Oncidiinae alliance
Starry Brassia Shaped Hybrid1st H&I Zegelin2nd N&K Mitchell
1A Howeara1st B. Hall2nd B. Hall
Rounder Odontoglossum shaped hybrid1st R&B Cooper2nd K. Green and D. McBain
Equitant1st I. Wheeler2nd I. Wheeler
Champion Oncidium Alliance R&B Cooper
Section H – Australian Native (Hybrid)
Dendrobium1st E&D Collins
Champion Australian Native E&D Collins
Section I – AOV hybrid
Any Other Variety Hybrid1st I. Wheeler2nd I. Wheeler
1A Zygopetalum1st B. Newman2nd R&B Cooper
Champion AOV B. Newman
Section J – Species
CymbidiumNo entry
Laeliinae1st J. Sidebottom2nd G. Suter
Paphiopedilum1st I. Wheeler
Phalaenopsis1st B. Pittaway2nd B. Pittaway
Vandaceous1st K. Green and D. McBain
Dendrobium – not native1st P. Baker
AOV not native1st N&K Mitchell2nd S. Clemesha
Australian native dendrobiumNo entry
Native Species, not Dendrobium1st S. Clemesha
Oncidium Alliance1st I. Wheeler2nd B. Moore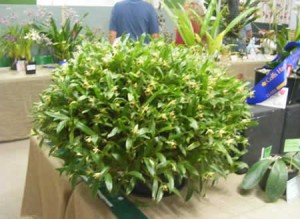 Section K – First Flowered Seedling
1st I. Wheeler
2nd B. Moore
Section L – Novice
1st J. Sidebottom
2nd H&I Zegelin
Review of Show
Your committee discussed the Autumn Show and came to these conclusions.  What do you think?  There will be an opportunity for some discussion at the meeting.
Agreed the main purpose of the Show is to display our plants to create interest in orchids.  Also allow members to show their plants and see what others are growing.
We are happy with the Gardens as venue. Hessian was good.
Agreed we should keep this date, i.e. end of April. Will stay open extra ½ hour on Sunday next year.
Roster was fine – sometimes had more helpers than we needed. Good to see so many people helping, especially at end of Show.
Raffle – will try to improve raffle prize.  Terrarium was good – thanks Don.  Sold more at sales table than previously – need to remind some members of rules for sales table.
Ribbons, trophies, cards – were fine.  Will need to get some reprinted soon.  Tabled for later meeting.
Publicity? Will get posters done earlier. Contact elderly citizens, perhaps woodworkers too.  Discuss with Advocate timing of article.
Obviously bad weather affected us on Fri, Sat but Sun was good.  Felt that it was an advantage to have another event on Sunday, but concerned about the aggressive donation collectors – need to have an understanding about this in future
Coffs Harbour Show
We had a display at the recent Coffs Harbour Show.  We have supported the show for many years, and early in our history we held our Autumn Show at the Coffs Show.
Thanks to those members who were able to provide plants for our display, and to those who helped supervise.  There were quite a few members of the public who looked at and commented on the display.
This is one of the ways we promote our hobby.
May Guest Speaker
Mike Rimmer from Neutrog Chemicals visited tonight to show us the range of fertilizers they currently have available. He hoped he could make fertilizer interesting for us.
They are a South Aussie based company with national and international customers grown over the last 21 years.  In the last five year they have achieved significant growth having a range of customers from large commercial growers and farmers, trades and retail.  From supplying 400 ton in their first year they are now producing 10 ton per hour.  Some of their outlets reach as far as South Africa, Ireland, Vietnam and England, with new ventures into North America, Canada and the Netherlands.
Neutrog have a website known as the 'Pooh Bah Club' www.neutrog.com.au.  It is free to join and have many avenues of information one being the personalities from the ABC gardening show.
Research and Development is very important in ensuring the best products are available and they take time to ensure this.  They are also part of the school gardening program set up by Stephanie Alexander as a grant to promote veggie patch gardening.  Neutrog supply fertilizers for free for any school receiving a grant.
Mike was an excellent speaker who spoke very clearly and those in the back pews could really hear him.  He elaborated on the items in the booklet passed out and it was interesting to have plenty of questions asked.
It was very generous of him also to give a litre of their latest product – Gogo Juice  – to all the members and visitors.
The Book "From the Ground Up" that was also donated was also extremely generous and according to Barbara Hunt well worth the read.
Agenda for June 2011 Meeting
Welcome, Apologies, Visitors.
Minutes of May meeting
Business Arising
Committee Report – see newsletter
Inwards Correspondence
BCU Reports
Friends of Botanic Gardens newsletter
Outwards Correspondence
Thanks to Mike Rimmer
Finance Report – see newsletter
Sponsors Spot –
Table talk.
General Business
40th Anniversary luncheon – any questions?
Review of Autumn Show
Guest speaker. – Ivy Wheeler talking about her trip to Taiwan Orchid Show this year.
Raffle, popular vote.
Minutes for May 2010 Meeting
Ed  welcomed 32 members, and  visitors Trish,  Joy, Tom and guest speaker Mike Rimmer
Apologies: Carole Davis, Pat King, John, Norm and Kay Mitchell, Judy Cowling, Pauline, Brian Moore
Mvd. John Scd. Tracy That minutes of April meeting be approved as printed in newsletter
Business Arising – None
Inwards Correspondence –
Grafton Orchid Society show – 6th, 7th, 8th of May
Woolgoolga Orchid Society show – Saturday 8th October- set up Friday afternoon our support would be much appreciated.
Bellinger Valley Orchid society show – Saturday 18th August  – set up from 7pm Friday the 17th and Saturday morning before 7.30am.  The Uniting church Hall Cnr Hyde & Ford St. Bellingen.  Judging will commence at 8am and show will open from 10am to 4pm.
Letter from Friends of the North Coast Regional Botanic Gardens Inc. informing us that the kitchen (due to safety issues) is now off limits to all except the café staff.
Certificate of investment from BCU.
Bank Statements from BCU.
Mingara Orchid Fair and show Saturday & Sunday 25th  & 26th June
Amended Dates for Bellinger Valley Orchid Society Show – receiving 7pm 19th August  & 7:30am Saturday 20th august – Show all day Saturday
New mailing address for Bellinger Valley Orchid Society – PO Box 402 Nambucca Heads NSW 2448
BCU Term deposit due for maturity 7th May 2011
BCU Notification of temporary closures on the Northside Branch
Australasian Native Orchid society Mid North Coast Group – 10th Annual Kempsey Speciosum Spectacular.  Free BBQ for visitors held  at 5:30pm on Friday 2nd September.  Enquiries John Ziertsch on 02 6554 9733
Mingara Orchid Club Show on 25th & 26th June
Outwards Correspondence
Sympathy card to Hoffman family
Mvd. Don Scd. Steve that Inwards correspondence be received and outwards correspondence be approved
Finance Report: Mvd. Glad Scd. Betty That report as presented in newsletter be approved.
Table Talk: Steve
General Business:
40th Anniversary Luncheon – 16 July.  Buy your tickets from Ed, Sherill or Bruce as soon as possible. The deadline to buy them is 9th July as numbers for catering must be in by then.  Our menu will be in this newsletter.  We were part of the Horticultural Society, now Garden Club, for 10 years before we became Coffs Harbour Orchid Society   in 1971.
Our autumn show had a great response with much help to set up, help and pack away. We had 25 more plants on display than the last show.  It was wonderful that our  sections champions were all different people.  We had a visit from the Japanese Consulate who expressed great interest.
The Coffs Harbour Show would like us to put on a display – volunteers to supervise will be needed.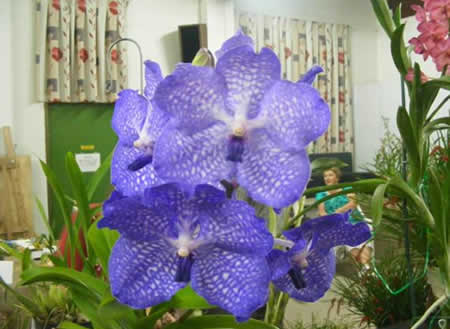 Popular Vote – Ed Pearce
Raffles: Trish Rhodes, Dave, Diane
Committee Report
The last committee meeting was mostly concerned with reviewing the Autumn Show.  The conclusions of this discussion are reported earlier in this newsletter.  We also talked about the upcoming 40th Anniversary Luncheon, and arrangements our display at the Coffs Harbour Show.