Orchid News – December 2010
Home > Orchid News > 2010
Calendar
2 Dec Christmas meeting & Awards
3 Feb First meeting for 2011. Murray Shergold "Out of Africa"
6 Feb Workshop at Woolgoolga
December Meeting
The December meeting will be our Christmas and awards meeting.  We will be giving awards for most successful exhibitors in each section of our monthly competition.  There will also be some active service awards to recognise years of contribution to the society by some of our members.
We will also announce the result of the Orchidwiz raffle.
Partners welcome. Bring a gift between $5 & $8 – also bottles of drink (non alcoholic) and something sweet.
President's Remarks
At the recent 2010 AGM, Ed Pearce was elected President of CHOS.
THANKS.  Firstly, thank you to all those who have passed on their good wishes for my surgery. The kidney transplant has gone well, and the "new" kidney is working well.  I am now recovering and getting used to the anti-rejection medication.
Thank you too for electing me to be your new president.  I will do my best to fulfil this role.  I'd like to thank Don for the work he's done as president over the last 4 years, and also thank Steve Clemesha for filling for me while I'm away.
PURPOSE? So, why do we have an orchid society?  I think the answer would be something like for the enjoyment of growing orchids.  I suggest we do this two ways – friendship with people who have an interest in orchids, and learning more about orchids.  I have appreciated the friendship of people in the society.  When I came to Coffs harbour a few years ago I didn't know anyone, and I thank you for making me feel so welcome.
We also try to increase our enjoyment through the program that is provided.  So we have our monthly meetings with a range of guest speakers, and Shows where we can see what and how people are growing.
We have started some workshops, and we are planning a few visits to people's orchid houses and perhaps a trip to some orchid nurseries.   I have appreciated the readiness of the established growers in the area who have been ready to share their orchid growing ideas with me.
I look forward to the year ahead and the pleasure of flowering orchids.
Ed Pearce
AGM Positions
Members and visitors were welcomed.
Minutes of 2009 AGM were approved.  Mvd Steve Clemesha
Scd Glad Fleming
BUSINESS ARISING – Nil
CORRESPONDENCE – Nil
PRESIDENT'S REPORT – Read by Don Turner
FINANCIAL REPORT – provided at meeting.  Moved that annual subscription remain the same in 2010/11 as for this year, i.e. $10 and $15 for couples. Mvd Glad Fleming Scd. Don Turner
GENERAL BUSINESS   
Don Turner stepped down as President after four years of outstanding support. Ed Pearce will be new President with Steve Clemesha (vice president) acting for Ed while he is away.
All nominations for positions accepted.
President Ed Pearce
Vice President  Steve Clemesha
Secretary Sherill Harrison
Treasurer Bruce Hall
Committee Don Turner, Leonie Strauss & Sue Williams
The other positions were announced as
Show Marshall   Ivy Wheeler
Asst Show Marshall   Bill Bright
Editor    Ed Pearce
Asst Editor       Sherill Harrison
Publicity  Bruce Hall
Membership   Bruce Hall
Librarian    Carol Davis
Public Officer Steve Clemesha
Catering      Sue Williams, Barb Pearce
Raffle Plants    Betty Pittaway
Raffle sales      Clem Murray
Sales table       Glad Fleming
Monthly Comp points  Gary Suter
Photography   John Higgins
Visit to Ivy's
Ivy's afternoon at her house, was a most pleasant way to spend a Sunday with no rain to mar the occasion.  It was wonderful to wander through her orchid houses and see the multitude of plants she has and how healthy they all look, not only her Orchids but many other varieties as well.  Also a chance to buy some if you wanted to.
She had a very good turn out and everyone sat and chatted got to know each other a bit more and ate.  Her back patio is ideal for events such as these.
Raffles were held for free and Ivy donated some of her plants as prizes.  Gordon let us know that a nursery was closing down and he could buy Cattleyas for a very good price if we paid and ordered then.  Many of us did just that.
We should have more of these afternoons.  Comments were heard from newer members that they were very pleased to be involved with such a friendly Society.
Our thanks go to Ivy for opening her home to us.
Orchidwiz
The society has received another copy of the orchid encyclopaedia – Orchidwiz.  This generous donation from Orchidwiz is for the society to raise some money.  This is an excellent resource.
Committee has decided that this time we will have a sealed auction for the program.  The cost to buy the program from Orchidwiz is $295 (US).  This is for the latest version.  See http://www.orchidwiz.com  for more information.
If you are interested write down how much you are prepared to pay and put this in a sealed envelope and give it to Don Turner at or before the December meeting.  The winner will be announced at the meeting – good Christmas present for someone.  The minimum bid is $100.
If there is more than one person with the highest bid, the winner's name will be drawn out by ballot.
Ivy's Talk – Paphiopedilums (slipper orchids)
There are several varieties of slippers.  Brachypetelums – not easy to grow.
Species and Hybrids of Bellatulum, Vietnamensis, (new species) Micranthum, Armeniacum.
Hybrids Deperle, Vanda M Pearman, Brachypetelums are often found in China and can stand the cold.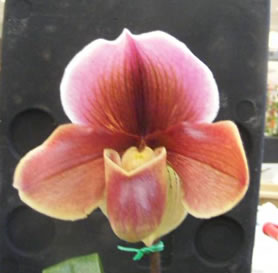 Varieties
Complex –
Easiest to grow, with big round glossy flowers and plain green stiff leaves. Spring blooms that like our climate.  They originate from Sydney.  They flower prolifically even under trees.  Often came from species such as Spicerianum and Insigne.
Complex hybrids – Winston Churchill, Peony Regency, Orchilla Chilton
Primary Hybrids = Species crossed with another species
Multi Floral – Is a much larger plant and usually have plain green leaves.  They like to be a little warmer in winter but are also easy to grow and have more than one flower stem spike.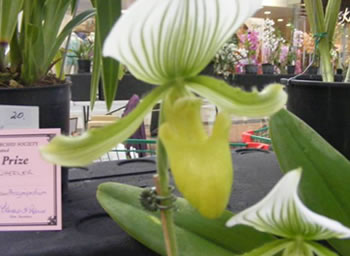 Species & Hybrids
have lots of flowers and different foliage –  Rothschildianum, Sanderianum
St Swithins is two species crossed = Rothschildianum and Phillipinense
Maudiae type
Mottled leaf – I find this one harder to grow.
Species & Hybrids Callosum crossed with Lawrenceanum makes Maudiae which is used to make many hybrids.
Species Sukhakulii found in northern Thailand is used in many Maudiae type hybrids.
Phragmepediums
Plain green leaves easy to grow and likes to sit on a tray of water and likes higher light.
Species Besseae, Schlimii – Hybrids Schroderae, Calurum
You can't get a mericlone off slippers as they are propagated by seed or division.
Conditions
In this area Slipper Orchids don't need heat to grow but they love light breezes.  I have them in a shade house with a high roof of 80% shade cloth, getting morning sun and with good wind breaks.
Planting Medium
I am using Orchidmate – cocoanut husk chip at 8 to 12 size from Tinonee except for the Maudiae type.  I find they do better in bark.  It is necessary to soak this for a few days.
I use the same fertiliser for all my orchids. – Manutec as well as Thrive once a month from Big W. I usually re-pot once a year if possible.
Watering depends on conditions – The water goes through cocoanut chip and doesn't get waterlogged but may need more frequent watering in hot weather. If needed, twice a week in summer and once a week in winter. If it rains on them – don't water.
Slippers aren't hard to grow but if just starting out it is best to start with 'Species' with dark leaves.
I am going to Taiwan in March to the Orchid Show – This is the home of the Slipper Orchid and Phalaenopses.
Sydney Visit
I recently attended a meeting of the Parramatta and District Orchid Society.  The meeting was their Christmas meeting where they presented their annual awards, and held a plant raffle to raise funds for the society.
Workshops
Our second workshop at Gordon's home at Woolgoolga was again a success.  Even the weather came to the party.  It was a very full morning covering so many basics.
Gordon had printed out material to aid with needs for various types of Orchids and also a fact sheet for his potting mix. This can be obtained from him at any time on request or Carole our librarian will have a copy also available in the library.
Clay Pots
Expensive
Absorb salts from fertilisers.
They are heavy and when it is time to re-pot the roots adhere to the pot and it will have to be destroyed to remove the orchid.
Plastic Pots
Choose hard plastic with a grill of drainage holes around the edge and bottom
A squat wide variety allows for more stability of your orchid if it tends to lean to one side
The salts only accumulate on the outside.
Easy to remove and re-pot
If you buy a plastic pot with holes all over it is extremely difficult to remove your orchid without damaging it.
Pots with a rounded bottom edge will tend to be unstable
Wash pots with phosphoric acid (28-30mls per one litre of water
Potting Mixes
Styrene – retains virtually no water
Perlite and Bark – Drains more slowly as it is a close mix- stays damp not saturated.
Sphagnum moss –retains more than half the water added.  Could cause Orchids to rot.
To mix his potting mix, Gordon uses a large tray which makes up a substantial amount.  The amounts can be adjusted to whatever quantity is required.
Recipe
All parts are measured with the same container.
1  part Canadian Peat Moss (It takes 1.5 parts dry peat to make 1 part damp peat)
2  hand full's of Dolomite (if 10 Lt measure used)
2 parts Bark (medium)
1 part fine styrene foam ( use an old food processor to make your own dip in water first to stop it sticking to everything) do not use bean bag beans
1.5 parts extra light perlite (can be called super coarse)
1 part small gravel or charcoal rinsed
Method
In separate containers soak peat moss and bark for 2 days stirring occasionally, Perlite is to be rinsed thoroughly. Squeeze water from peat moss and rinse bark.  Put moss into mixing tray and rub in dolomite, mix in the fine styrene followed by the perlite, and then comes the bark.  When all the ingredients are combined lightly mix in the gravel or charcoal.
This mix stays damp much longer than open mixes; it does not hold water and drains very well.
It is reusable, when potting to a larger pot, just add a bit of fresh mix to it to make up the required amount.
At present I grow Phalaenopses, Hard can dens and Cattleyas in it and all are going well.
A little care is to be taken with watering intervals and the pot size. I.e. small pots more frequently than large
When re-potting cleaning the roots are important.  A fungicide can be used or even Listerine.  Paint roots and any cuts you have made. Then give plants time to. Don't change or add anything unless you have checked out the problem first.
Remember: Beware of experts – they are usually some other society's idiots.
N.B. With all potting mixes common sense is the main ingredient.
Fertiliser
Do not fertilise with something someone has given you before checking it out.  Only ever try new fertilisers on one plant only to monitor results
Never use slow release fertilisers – they tend to release too quickly if they get wet too often.
It is recommended for new growers to use Campbell's yellow at 2/3 strength.  On April fool's day they come off Campbell's yellow and change to HP8
Check your PH levels and check with long time growers for best strategies
Brian likes to use Dynamic lifter once or twice a week
Depending on the strength of the fertiliser it is recommended every one to three weeks.
When applying fertiliser ensure it is coming out of the bottom to ensure roots are getting it.
Rain water/tank water the best for all orchids
It is also good to vary fertilisers at times
A pH tester is essential if you have a large number of Orchids to quickly ascertain PH levels.  Usually should be between 5.5 and 6.5.  If below 5.5 soda ash may be required – if above 6.5 phosphoric acid takes it down
Gordon showed us a nifty method of wire supporting new cuttings when re-potting.  It is worth while asking him about this.  Even to visiting him to have a demonstration.
Also when re-potting ensure you don't have the new growths (eyes) below mix.
If you have tied the new pieces onto a support wire – ensue you release them when they have a good grip on the mix.
If you find the roots are brittle when you are re-potting – a quick soak in warm water will change that and minimise any root damage.
Agenda for December 2010 Meeting
Welcome, Apologies, Visitors. Special welcome to sponsor(s).
New members?
Minutes of Nov meeting – as printed
Business Arising
Committee Report – as printed
Active Service Awards. We have three awards to make recognising years of active service.
Inwards Correspondence

BCU Statements.
Letter from Nambuccah giving show dates
Receipt from 2AIRFM for membership
Cheque Book
BCU Investment Certificate
Tax Invoice from Newspaper

Outwards Correspondence

Thanks to Danny Bell
Request to Botanic Gardens for meeting/Show dates for 2011.-.

Finance Report
Monthly competition results.  Awards to the most successful exhibitors in each section at our monthly meetings.
Overall award.  The Glad Fleming Award to overall most successful exhibitor for the year.
Table talk
General Business – nil.
Raffle, popular vote.
Minutes for November 2010 Meeting
Welcome, Apologies – Ed Pearce, Leonie Strauss,
Visitor -. Margaret Chapman
Minutes of October meeting are in the newsletter –
Business Arising –
Committee Report
Inwards Correspondence
Outwards Correspondence
Finance Report –
Sponsors Spot – Encourages everyone to support all our sponsors.
Table talk
General Business

Orchidwiz auction
Ivy Wheeler's Lunch – 14th November – 1:30pm please bring a plate and a chair.
Christmas meeting (Sue)  – First Thursday of December – Partners welcome Bring a gift between $5 & $8 – also bottles of drink (non alcoholic)

Guest speaker.  Ivy Wheeler
Raffle, popular vote. Ivy Wheeler
Committee Report
The first meeting of the new committee was held at Don's.  Don was thanked for his term as president, Leonie and Sherill were welcomed.
Matters discussed included
Christmas meeting
Purchase of a remote microphone
New tables
Change of table talk in meeting
The need for an asset inventory.