Orchid News – October 2010
Home > Orchid News > 2010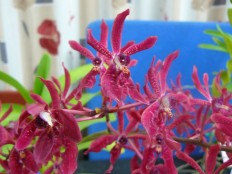 Calendar
3rd Oct Workshop at Gordon's
14 Oct Danny Bell on flasking orchids
17 Oct Botanica at Botanic Gardens
4 Nov AGM, and Ivy Wheeler – growing Paphiopedilums
2 Dec Christmas meeting & Awards
October Meeting
Please note that the October meeting will be held on 14th October. This is because of school holidays when we don't have access to our meeting room.
Our guest speaker will be Danny Bell who will be talking about flasking of orchids. Danny has done this commercially. At our last meeting we learned about how orchids are pollinated, this meeting we will learn about what is done once the seed capsule matures.
Sympathy
We were sad last month to learn of Joy Kelly's death after a long battle with illness. Joy was an active member of our society after moving here from Canberra with her partner Bruce. Many members of our society were at Joy's funeral, and we have passed on our sympathy to Bruce.
Woolgoolga Show
A reminder that the Woolgoolga Show is on 9th October at the Woolgoolga Public School Hall. Benching is 2-5 on Friday 8th Oct and 6-7.30 on Saturday 9th. Show is open to public from 10 am on 9th.
Spring Show
Thanks to everyone who contributed in anyway to the success of our 2009 Spring Show. Special thanks to our Show Marshall Ivy Wheeler, her assistant Bill Bright, and her helpers. It takes a lot of people to run a show like this.
We had about 175 plants benched, up from about 150 at the last Spring Show – thanks to all those who contributed plants to our display. There were many very favourable comments from the public.
Results
Grand Champion E&D. Collins
Reserve Champion G. Clarke
Champion Specimen N&K. Mitchell
Champion Native N&K. Mitchell
Judges Commendation B. Newman
Pittaway Perpetual Trophy I. Wheeler
BUC Perpetual Trophy B. Moore
Detailed Results for each section of the show.
Annual Elections
At the AGM in November there will be elections for
President,
Vice-president,
Secretary,
Treasurer
Three committee members.
We also would like a lot more helping hands to make our society successful (see list in last newsletter). We would appreciate it if you could put your name down to assist with any of them. Perhaps you would like to help someone else? Or perhaps you will only do it if no-one else is interested? Please talk with Ed or someone on the committee.
Remember that Don Turner is our returning officer, and all nominations should be handed to him.
Steve Clemesha's Talk
Our Guest Speaker last month demonstrated how he pollinated orchids. Passing around an orchid flower and a toothpick, Steve brought our attention to the two pollen masses under the pollen cap. The easiest way to pollinate was to remove the bottom of the petal under the cap and then take the toothpick – putting it into the stigma and picking up the pollen head. With this on the end of the toothpick we inserted it under the white cap of the remaining flower top. There was a little hollow it fitted into.
The flower will wilt and the ovary at the base of the flower will swell. The next year will bring a seed pod. When this starts to split you can collect the seeds to start your own creation.
It was an interesting exercise and gave many of the new members some idea of what is entailed in creating new orchid hybrids etc. We would like to thank him for his time and insights.
There are a couple of short videos demonstrating the process on YouTube.
Workshops
It is planned to hold a couple of orchid growing workshops, commencing in October 3rd.
These workshops will be held at Gordon Clarke's home, and they are planned for Sunday mornings from 9.30. Please bring some nibbles.
Topics to be covered are
Environment
Plant selection and purchase
Pots and mix
Fertilising and watering
Controlling insects, fungus and bacteria
General
Repotting, dividing, staking, preparing for shows
Agenda for October 2010 Meeting
Welcome, Apologies, Visitors.
New members
Minutes of September meeting
Business Arising
Committee Report – see newsletter
Inwards Correspondence

Biogrow catalogue
Returned mail from post office
BCU Statements
Tax invoice for use of meeting room
Botanic Gardens newsletter
Tax invoice for 2AIR FM membership.
Tax invoice for OSNSW membership
OSNSW newsletter
ATM Tours – Taiwan Orchid Show 2011.

Outwards Correspondence

Thanks to BCU
Thanks to Plaza management.
Thanks to Ivy for Show Marshall
Sympathy to Bruce Hall
Get well for Bernie Hoffman
Get well for Ron Cowling
Get well for Barbara Hunt.

Finance Report – To be presented at meeting
Sponsors Spot – BCU
General Business

Review of Show, including DVD.
AGM and elections
Botanica at Gardens – need helpers.

Guest Speaker: – Danny Bell
Raffle, popular vote, table talk.
Minutes for September 2010 Meeting
Minutes of general meeting held 2 September.
President Don welcomed the 29 members and guests to the meeting. He told members that Joy Kelly died on Monday, and passed on our sympathy to Bruce.
Apologies were received from Bruce Hall, Gordon Clarke, Jason Slaviero, Laurie Nelson, Dulcie McBain, Ron and Judy Cowling, Bernie Hoffman, Pat King, Inge and Herb Zegelin, Di Blay.
We welcomed Greg Blaxland visiting from Tamworth.
Gloria Small was welcomed as a new member.
Minutes of August meeting. Mvd Sue, Scd Barb that minutes as printed in the newsletter be approved.
Committee Report – as printed in newsletter. Attention was drawn to the "getting to know you" section which will be put in the newsletter.
Inwards Correspondence

BCU Statements
Xerox tax invoice
AOC report
Grafton O.S. Schedule
Lismore O.S. schedule
Casino OS schedule
Lismore OS schedule.

Outwards Correspondence

Show schedules
Thanks to Ron Alexander.

Mvd Ken, Scd Steve That correspondence be received.
Finance Report. Mvd Glad, Scd Sue that finance report as printed in newsletter be approved.
Sponsors Spot – Ed spoke about Sunset Lake Orchids at Big Banana.
GENERAL BUSINESS

Arrangements for the Show. People encouraged to sign up for duties. All encouraged to bring along plants for the display. Entry cards available from Glad – Ivy spoke about how they should be filled in.
Brian gave some info about the workshops being held at Gordon Clarke's home – 26 Pullen Street, Woolgoolga – 9.30 Sunday 3rd October.
Redcliffe OS is visiting on 13 Nov. Members are invited to a lunch at Ivy's – please bring a chair, drinks and a plate.
There are some bundles of old orchid magazines available for members to borrow.

Guest speaker: Bernie Hoffman was to be our guest speaker, but he had a minor crash on his way to the meeting so Steve Clemesha stepped in and gave the talk about pollinating orchids.
Raffles were won by Brenda, Pauline, Bob, Ken, John and Barbara. Popular vote was won by Glad for her well grown Arpophyllum, and Ivy did the table talk.
Committee Report
The September committee meeting was held at Don's. The main matter discussed was the Spring Show. Items raised were –
Fine-tuning the schedule
Need to have more people sharing the supervision, etc duties on the roster
How we can get more plants for the sales table.
Confirming venue for another year
Finances – ran at a loss
Also talked about up coming events – workshops, Botanica, Bunnings, AGM.
Q&A on Phalaenopsis
Q. My Phalaenopsis has a bloom spike arising out of the apical crown of the plant. What effect will this have on future flowering?
A. Probably this means that your plant has reached full maturity, and it will cease to grow and flower after this spike is finished.  However, we've seen some plants resume growth, and thenceforth act in a normal manner. Some say this atypical flowering results from too much light; others blame insecticides, especially the systemics.  A plant that does not resume normal growth will usually throw one or more new plants or "keikis: from the base of the plant, so don't throw it away. Until it does produce new plants, continue to treat it in a normal manner.
Q. My Phalaenopsis plant has grown quite tall. How can I "top" it?
A. Select where you will cut the plant by examining it carefully, and determining a point where the cut will leave the top half with an ample root system to sustain it until it becomes established. You can remove the bottom part and repot it, or leave it "as is". To pot the top, be sure to cut off any leaves that will be below the potting media, and of course, use only a sterile knife. Remove any flower spikes to force growth energy into the division. Seal all wounds and cuts with a tree-seal paint.
Withhold water from the bottom half for a few days to allow the injured roots to heal. Then keep it slightly on the dry side until one or more "keikis" appear – from one to six months. They can be removed when the roots are one to two inches long. As long as the bottom half remains alive, it will continue to produce, perhaps as many as six or more "keikis".  You can give slightly more water than is usual to the top half until it is well-established.
Q. When buying Phalaenopsis seedlings, what kind of shape and colour should I look for in the leaves and root tips to assure fine flowers?
A. We know of no correlation between flower shape and size, and the shape of the leaves or colour of the root tips. On our bench of stud and award plants, you can find every type of leaf shape: pointed, rounded, long, short, etc. Certainly, in buying seedlings with colour expectancy, you'll want a plant with some pigmentation in the leaves and/or root tips.
But again, there doesn't seem to be any correlation between the amount of colour visible in the plant, and the intensity of colour in the flowers. From our experience, the only assurance of fine progeny comes from the use of fine parents. Of course, there is no hard-and-fast guarantee of success but the odds are in your favour.
Q. My Phalaenopsis plant grows quite well, but doesn't bloom.  Why?
A. One reason could be too high temperature. We find that Phalaenopsis flower quite well at 62 degrees F. If you are growing the plants indoors, artificial lights nearby might cause long days and thus inhibit flowering. If the plants seem to be growing well, water and fertilizer applied as directed, temperature ideal, and still no flowers, then not enough light is probably the answer.
Gradually increase the light intensity until you have about 1000 to 1500 foot-candles, or roughly all the light the plants can take without burning. If growing in the home, move the plants to a nice, bright windowsill that receives an hour or two of direct sun in the very early morning or late afternoon.
Q. My Phalaenopsis never quits blooming, and is badly in need of repotting. What should I do?
A. Repot it – now! We repot year round as the plants need it. If the plant is healthy and robust, you can leave the spike on. If, on the other hand, the plant is a seedling, is weak, has a poor root system, or if you are apt to damage a goodly number of roots in repotting, then sacrifice the spike to force growth energy into the plant.
George P. Woodward, Jr. (Santa Cruz, CA) reprinted from the American Orchid Society Bulletin – March 1968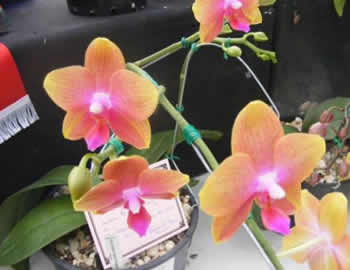 Monthly Competition
Please make sure that when you are filling out the card for your plant on the display tables at our monthly meetings that you also put your name on the back.
And please put your full name – some people are just putting first names and this is causing confusion.
Remember that you can download the card form our website and fill them in at home if you wish.