Orchid News – September 2010
Home > Orchid News > 2010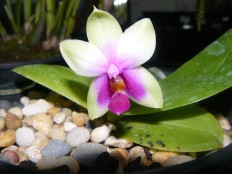 Calendar
2 Sept Bernie Hoffman on pollinating orchids
8-11 Sep Coffs Harbour O.S. Spring Show
14 Oct Danny Bell on flasking orchids
4 Nov AGM, and Ivy Wheeler – growing Paphiopedilums
September Meeting
Our guest speaker at the September meeting will be Bernie Hoffman. Bernie has been a member of the Coffs Society for many years. He will be talking about pollinating orchids.
Spring Show
Our Spring Show at the Plaza Shopping Centre is fast approaching. How are your plants looking? What will you have for the show?
There is a copy of the schedule on our website, and there are some copies at the meeting.
We encourage all members to enter some plants, even if you don't think you will win anything. We need plenty of plants to make a good display. There were a couple of members who were first time exhibitors at our Autumn Show this year. If you need some help please ask one of the experienced growers.
Cards for show plants and for the sales table plants are available from Glad at the meeting, and at the Show.
Annual Elections
At the AGM in November there will be elections for:
President
Vice-president
Secretary
Treasurer
Three committee members.
Are you interested in any of these positions? If you're not sure what's involved speak to Ed or one of the committee.
Or you might like to nominate someone. There are nomination forms available at the meeting, and on our website.
And what of the other positions? There are quite a few other things that people do to help make this a successful orchid society.
Newsletter editor
Show Marshall Assistant
show marshal Publicity
Librarian
Supper
Monthly Comp points
Sales table
Memberships
Raffles
Hall set – up for meetings
Program
Sponsorships
Public Officer
Web-site
Are you interested in doing any of these jobs? Or perhaps you would be prepared to be an assistant in one of these? Again if you would like some more information please speak to Ed or to one of the committee.
Ron Alexander's Talk
Ron is a commercial orchid grower. He and his son Craig run Harbour Orchids in Old Coast Road, Korora. Ron was a member of the Coffs Harbour Orchid Society for many years, and served terms as president and vice-president.
Ron cautioned growers that he is talking about what works for him in his conditions. He recommended that if you want to try something different to what you are now doing you should try it on a few orchids to see if it works in your conditions rather than your whole collection.
He stressed that the growing environment has many factors – light, water, potting mix, fertilisers, etc. He grows mostly Australian natives, especially the Cooktown Orchid, Dendrobium Bigibbum. Ron has been line breeding this orchid for more than 15 years with the aim of producing strong compact plants, and flowers in a range of colours from white through pinks to deep maroon. These compact plants have been renamed.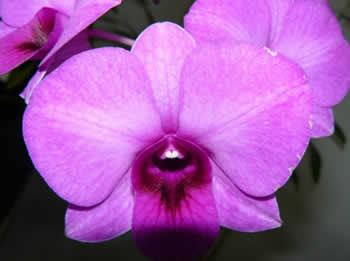 Ron suggests that seasons have changed in his years of growing and that spring is now earlier than it was 20 years ago. As a result he starts fertilising earlier – watering on warm days and withholding water on colder days. Good air movement is important.
He again stressed the importance of finding out what works for you and sticking with that, but to keep an open mind about new ideas. New ideas should be tried on a few plants first.
He uses a preventative program for pests, spraying with Confidor for insects – this deals with caterpillars, aphids and slugs. This is a relatively safe systemic spray, but you still need to take precautions with it. He sometimes also uses Carbaryl.
For a fungicide he uses Bravo and Mancozeb
Ron fertilises with organic fertilisers such as seaweed or fish emulsion. He also uses 1 tsp of Epsom salts and 1 tsp of Dolomite per watering can.
Ron gets good results growing plants on mounts and encouraged people to try this – mounts are available from Easy Orchids and Tinonee Orchids.
Workshops
It is planned to hold a couple of orchid growing workshops, commencing in October.
These workshops will be held at Gordon Clarke's home, 26 Pullen Street, Woolgoolga, and they are planned for Sunday mornings.
There will be more information in our next newsletter
Orchidwiz Program
Ed has a copy of the Orchidwiz program loaded on a laptop computer. Contact him if you would like to have a look at the program and how it works.
Agenda for September 2010 Meeting
Welcome, Apologies, Visitors.
New members
Minutes of August meeting
Business Arising
Committee Report – see newsletter
Inwards Correspondence

BCU Statements
Xerox tax invoice
AOC report
Grafton O.S. Schedule
Lismore O.S. schedule

Outwards Correspondence

Show schedules

Finance Report
Sponsors Spot – Sunset Lake Orchids at Big Banana.
General Business

Arrangements for the Show.

Guest Speaker:
Raffle, popular vote, table talk.
Minutes for August 2010 Meeting
President Don welcomed the 34 members and guests who were present at the meeting. This was a very good attendance for a winter meeting.
Apologies were received from Diane Blay, John Sidebottom, Tracey Suter, John Oliver, Graham and Pam Baillie, Norm and Kay Mitchell, Brian Moore, Ron and Judy Cowling, Steve Clemesha, Bruce Hall and Joy Kelly.
Minutes of June meeting. Mvd Barb , Scd Sue That minutes as printed in the newsletter be approved.
Business Arising

Have finalised the schedule for our Spring Show
Ken Green encouraged members to support the Bellingen Show on 21st August.

Committee Report – Ed referred to the report printed in the newsletter – no issues.
Inwards Correspondence

Melbourne Orchid Spectacular 20-22 August
Port Macquarie Show – 14-15 Aug
BCU Statements
Woodburn OS Show – 17-19 Sep
Bellinger Valley OS Show – 21 Aug
Tax Invoice – Newspaper
El Dorado Orchids Open Day – 3 Oct.
ANOS Conference in Newcastle – 27-29 Aug.
Neutrog catalogue – fertiliser, etc products
Tinonee Orchids catalogue
Byron Bay OS Show schedule
Woolgoolga OS Show schedule.

Outwards Correspondence

Get well card for Joy Mvd Barb, Scd Gary that correspondence be approved.

Finance Report. In Bruce's absence, Ed referred to the report in the newsletter. Mvd Sue, Scd Barb that report be approved.
Sponsors Spot – Ed spoke briefly about Mangrove Jacks, and encouraged members to patronise our sponsors.
GENERAL BUSINESS

Gordon Clark spoke of plans for workshops – will start in October. More details later.
Annual elections. Ed encouraged members to consider the nominations needed for the annual meeting. Forms available – nominate yourself, or someone else.
Suggestions for improving the society? Any ideas to committee please.

Guest speaker. Ron Alexander spoke about Australian native orchids. Detailed notes are elsewhere in tis newsletter.
Raffles were won by Bruce, Jason, Val and Gloria. Popular vote was won by Steve Newman with his lovely Phalaenopsis. .
Table talk was done by Ivy.
Meeting closed at 8.45 for supper.
Committee Report
The August committee meeting was held at Don's. Committee finalised some of the arrangements for the Show – raffle, trophies, publicity, etc.
We also decided that we would start a "getting to know you" section in the newsletter. The idea is to give people some information about who everyone is, and what our interests are.
We also agreed to take part in Botanica at the Gardens on 17th October – we've done this for the last couple of years – and to look into getting a microphone and speakers so that members can more easily hear our speakers.
Lycaste
Do you grow any Lycastes? Have you seen any of these orchids on sales benches, or at Shows, and wondered if you could grow them? Norm Mitchell is a master growing these, and many of them seem well suited to our conditions on the mid north coast. Here are some growing notes taken from the Orchid Society of NSW website.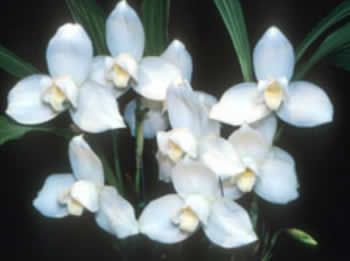 This genus produces large, showy, triangular flowers that are waxy and long lasting. Two cultural groups are generally recognized – the evergreen skinneri-type that flowers from leafy pseudobulbs, and the deciduous aromatica-type, that flower from leafless pseudobulbs.
Light requirements vary. Deciduous species prefer light conditions as for cattleyas, 50% to 70% shade. More light is usually provided as new growths form pseudobulbs. Evergreen species prefer less light, 60% to 80% shade.
Temperature for the evergreen species should be fairly constant and never to hot. Nights of 5 to 20 degrees C and days of 25 to 30 degrees C are desirable. The deciduous species of Lycaste can tolerate a upper range up to 40 degrees C during the day and down to 5 degrees C at night when dormant in the winter.
Water should be applied in larger amounts during active growth (usually summer) than when the plants are not producing new leaves and pseudobulbs. The potting medium should just begin to dry out before watering. Deciduous species should be kept almost completely dry when leafless; evergreen species should be kept only slightly drier than normal after pseudobulbs form. Water should be kept off the leaves, and especially out of new growths, to prevent rot or leaf spotting.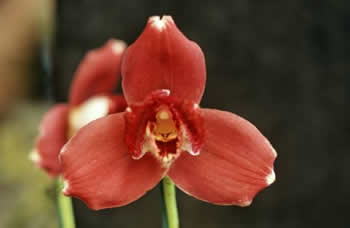 Humidity should be maintained at 40% to 70%. Deciduous species need less humidity when dormant. Brisk air circulation will help prevent damage to leaves by leaf spot fungi.
Fertilizer should be applied regularly and heavily when plants are actively growing. A high nitrogen formulation is recommended during active growth (usually summer); some grower's top- dress the potting medium with blood meal as new pseudobulbs form. In autumn or as growths mature and pseudobulbs are produced, fertilizer is reduced and/or switched to a high'-phosphorus formulation to stimulate flower production.
Potting is best when new growth starts, usually in spring. A fine-grade potting medium is often used; bark and perlite (3:1) is a common well-draining mix, and sphagnum moss is also used with good results. When reporting, split plants into no less than two bulbs per pot and choose a pot to allow for two years of growth. The bottom one quarter to one third of the pot should be filled with drainage material, either bark, or Styrofoam The plant should be positioned in the pot so that the newest growths are farthest away from the edge of the pot, allowing the maximum number of new growths without crowding the pot. Spread the roots over a cone of potting medium and fill in around the roots with potting medium to the junction of the roots and the pseudobulbs. Firm the medium well around the roots by applying pressure. Keep humidity high and the potting medium on the dry side until new roots form.
These are a rewarding and generally easy orchid to grow, dare I say a good beginners orchid and an excellent subject for the specialist grower. A large specimen sized pot of any Lycaste in full bloom is a sight to behold and one that will always remain embedded in one's mind.
Shows
The season of shows and open days is fast approaching. Are you interested in visiting to have a look at what other orchid growers are doing? Or perhaps entering some plants in the shows?
Here are the dates of shows, etc as far as we know at this stage. The secretary has more information, including a show schedule, for most of these.
1-4 Sep Alstonville
2-4 Sep Nambucca Valley
3-5 Sep ANOS Kempsey Speciosum Spectacular
9-11 Sep Coffs Harbour
16-18 Sep Woodburn
18-19 Sep Grafton
2 Oct El Dorado Orchids – Uralba
9 Oct Woolgoolga