Orchid News – August 2010
Home > Orchid News > 2010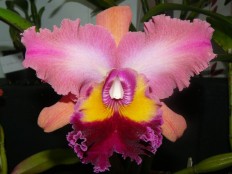 Calendar
5 Aug Ron Alexander on Australian natives
21 Aug Bellingen Orchid Society Show
2 Sept Bernie Hoffman on pollinating orchids
8-11 Sept Coffs Harbour Orchid Society Spring Show
August Meeting
The guest speaker at our August meeting will be Ron Alexander. Ron is a commercial orchid grower in Coffs Harbour. His business is Harbour Orchids in Old Coast Road. Ron was president of our society in 1988 and was vice president in 1979, 82, 86 and 87.
It was Ron's son Craig who first interested Ron in orchids in the 1970's. When Craig was still a school student he would walk past the home of Reg Simpson after he got off the school bus. Reg was one of our first members and got Craig interested in orchids. Reg told Craig to "get your Dad to build an orchid house for you", and so Craig and Ron became keen orchid growers.
Ron hopes to have some plants for sale on our sales bench. Members are also invited to bring along their own plants for sale.
Workshop
We have a number of newer orchid growers joining our society and it is proposed to have a few workshops where people can come along and ask questions about growing orchids, and perhaps bring along their own plants to ask about. This is a good chance to learn more about potting, fertilising, spraying, staking, etc.
The first workshop will be the home of Gordon Clark, 26 Pullen Drive, Woolgoolga on Sunday 7th August between 10 and 12.
Gordon is a long time member of Coffs Harbour Orchid Society and a well known grower of Phalaenopses, Cattleyas and a few others.
This is a good chance to see how Gordon grows his orchids and to get some help with your own orchids. Bring your plants along and get some advice about how to grow them better.
Gift Vouchers
The society has several gift vouchers from Easy Orchids in Woodburn. If anyone is going to buy items from Easy Orchids see Treasurer Bruce Hall and he will sell you vouchers which you can use to purchase orchids, pots, etc.
This way the society benefits and there is no disadvantage for the member who uses the vouchers.
Spring Show
Our Spring Show at the Plaza Shopping Centre is fast approaching. How are your plants looking? What will you have for the show?
You can view more information here, and there will be some copies of the schedule at the meeting.
We encourage all members to enter some plants, even if you don't think you will win anything. We need plenty of plants to make a good display. There were a couple of members who were first time exhibitors at our Autumn Show this year. If you need some help please ask one of the experienced growers.
Annual Elections
At the AGM in November there will be elections for
President,
Vice-president,
Secretary,
Treasurer
Three committee members.
Are you interested in any of these positions? If you're not sure what's involved speak to Ed or one of the committee.
Or you might like to nominate someone. There are nomination forms available at the meeting, and on our website. And what of the other positions? There are quite a few other things that people do to help make this a successful orchid society.
Newsletter editor
Show Marshall
Assistant show marshal
Publicity
Librarian
Supper
Monthly Comp points
Sales table
Memberships
Raffles
Hall set – up for meetings
Program
Sponsorships
Public Officer
Web-site
Are you interested in doing any of these jobs? Or perhaps you would be prepared to be an assistant in one of these? Again if you would like some more information please speak to Ed or to one of the committee.
Computers & Orchids
My aim in this talk is to show how I use my computer to increase my knowledge and enjoyment of growing orchids
Without Internet Connection
I use my computer to store photos of orchids, both photos of my own orchids and other photos such as shows and society meetings
I also try to keep a list of my orchids in a spreadsheet – this way I can keep track of what orchids I have.
I can load programs such as Orchidwiz onto my computer. This program is a powerful encyclopaedia and journal program. It has pictures and information about thousands of species and hybrid orchids. This excellent program allows me to research the breeding and growing conditions required by my orchids.
With Internet Connection
This increases the information available, but be aware that just because something is written on the internet does not mean it is necessarily correct.
I use the computer to communicate with orchid growers by e-mail. I use the free and easy to use Gmail program.
I can research for information about orchids. I often use the Google search engine to find out what I can about growing conditions for a particular orchid, e.g. Coelogyne, Disa, etc. The Royal Horticultural Society also has useful information about hybrid names, breeding, etc. This is found at the Royal Horticultural website.
I sometimes order orchids by looking at the online catalogues from orchid nurseries, e.g. Easy Orchids. An advantage is that the orchid nurseries often have photos of the orchids they are selling so you can see what it may look like. Many orchid sellers have a website with pictures, ordering information, etc. I have found the freight cost to be reasonable. Other sites I have used are Western Orchids, Mt Beenak Orchids, WoolfOrchidculture, Tinonee Orchids, Dark Star Orchids 2.5
Sympathy
We have learned that Graham Moran of Grafton Orchid Society has died after a battle with cancer. Graham was an excellent grower and exhibited plants in Shows of many neighbouring orchid societies. Several of our members have visited Graham recently to buy orchids. We have passed on our sympathy to the Grafton Orchid Society.
Orchidwiz Program
Our president Don won this program which we raffled this year. It is an extensive orchid encyclopaedia with lots of information about species and hybrids. Don has generously let us load the program onto the secretary's laptop so that it is available to members at our monthly meetings (this is within the terms of the licence).
Any members who would like to purchase a copy for their own use can do so – there is a reduced price of about $180 (US) if we can get 5 people who would like to purchase a copy.
If you would like to use the program at a meeting, or would like to see how it works, please see the secretary.
Raffles
We raffle some plants at each meeting – this is an important fund raiser for the society, and a good chance for members to get a new plant. Plants are often donated by members – thanks to Gordon Clarke for his donation of a Phalaenopsis at our July meeting – and thanks too to Peter Baker for donating several Phalaenopses for people who are interested in trying this beautiful, but slightly more difficult orchid.
Agenda for August 2010 Meeting
Welcome, Apologies, Visitors.
New members
Minutes of July meeting
Business Arising

Have finalised the schedule for our Spring Show

Committee Report – see newsletter
Inwards Correspondence

Melbourne Orchid Spectacular 20-22 August
Port Macquarie Show – 14-15 Aug
BCU Statements
Woodburn OS Show – 17-19 Sep
Bellinger Valley OS Show – 21 Aug
Tax Invoice – Newspaper
El Dorado Orchids Open Day – 3 Oct.
ANOS Conference in Newcastle – 27-29 Aug.
Neutrog catalogue – fertiliser, etc products
Tinonee Orchids catalogue
Nambucca Spring Show – 1-4 Sep.
Kempsey Speciosum Spectacular – 3-5 Sep.
Friends of Botanic Gardens – Tax Invoice for hall hire.
OSNSW Bulletin
St Ives Orchid Fair – 13-15 Aug
Alstonville Show – 1-4 Sep.

Outwards Correspondence

Get well card for Joy

Finance Report
Sponsors Spot – Ed will speak briefly about Mangrove Jacks.
General Business

Annual elections
Suggestions for improving the society?
Workshops

Guest Speaker: Ron Alexander will be talking about Australian native orchids.
Raffle, popular vote, table talk.
Minutes for July 2010 Meeting
President Don welcomed 23 members to our July meeting.
Apologies were received from Ken and Dulcie, Pat Wallace, Ron and Judy, Norm and Kay, Pauline, Joy, Bob Southwell.
We welcomed Herb and Inga Zegelin and Russell Cooper as members.
Minutes of June meeting were approved as printed in the newsletter Mvd Steve, Scd Betty.
Business Arising

Have contacted David Banks to be guest speaker next year.
Will adopt the proposed changes to Oncidiinae section for Shows for a trial period
Thanks to Sherill Harrison for volunteering to do the newsletter when Ed is away.

Committee Report – The brochure for new members was distributed – request for any suggestions for improvement to Ed.
Inwards Correspondence

1.BCU Statements
Friends of Botanic Gardens newsletter
2AirFM newsletter
Orchids Australia magazine
Thanks from Glad.

Outwards Correspondence

Thanks to Dennis Sinclair.

Mvd Sue, Scd Clem, that inwards correspondence be received and outwards correspondence be approved.
Finance Report. Bruce referred to the printed report in the newsletter. Mvd Bruce, Scd Glad that report be approved.
Sponsors Spot – Ed encouraged members to check out the services provided by Fitzroy Motors – new and used cars, servicing.
GENERAL BUSINESS

Concern expressed about lighting in the car park. Does not come on until too late. Concern about safety. Ed will contact Gardens.
Steve – there have been some changes to rules and regulations for incorporated organisations – this will be easier on us.

Guest speaker. Ed Pearce spoke about the use of computers to enjoy and learn about orchids.
Popular vote was won by Barb Pearce with her well flowered Oncidium.
Raffles were won by John Sidebottom, Peter Baker and John Oliver. A special thanks to Gordon Clarke for donating a Phalaenopsis for the raffles, and to Peter Baker who donated several Phalaenopses for members who would like to try growing this very rewarding orchid.
The judges for the night were Steve and Barb. Steve gave the table talk.
Meeting closed at 8.40 for supper.
Committee Report
The committee met at Steve's on 7th July. Matters discussed were –
Confirming schedule for Spring Show – this is now available on our website
Suggestion to improve our society. We talked about this – if you have any suggestions we would like to hear them.
Orchids of Brazil
By Brian Milligan
Brazil is a very large country, somewhat larger in area than Australia. Until I consulted the atlas I had not realised that it even extends into the northern hemisphere. It southernmost point lies on the same latitude as Newcastle (NSW), while its northernmost point corresponds in latitude with Mount Kinabalu on the island of Borneo. Its climate varies from temperate or subtropical in the south to tropical in the north. Although the country is largely hilly or mountainous, its highest peak is only 3014 m above sea level, a midget compared with many of the giants in the Andes Mountains that extend through Brazil's neighbours to the west.
The Amazon River is undoubtedly the most widely recognised of the country's many geographical features. The world's largest river, it is navigable by cruise liners as far upstream as Manaus, over 1000 Km from the Atlantic Ocean as the macaw flies and perhaps several times that distance as the piranha swims. The Amazon is not a single river, as it has hundreds of tributaries, eleven of them each over 1000 Km long! The basin drained by the Amazon River system is larger in area than the state of Queensland! This basin consists primarily of dense rain forest, its canopy so thick that little vegetation grows on the forest floor.
Most plants, birds and animals live in the canopy. Its orchids are therefore not easily accessible, although some in the lower canopy may apparently be seen from boats when the river and its tributaries are in flood. Orchids found in the Amazon rain forest include Cattleya eldorado, Cattleya violacea, Oncidium lanceanum, Oncidium cebolleta and many brassias, catasetums, encyclias and epidendrums. These are primarily warm growers, because the temperature in the Amazon basin during the warmer months averages 28°C and that in the cooler months 25°C.
The other large area of rain forest in Brazil lies in the south, in a band stretching several hundred kilometres inland from the coast. Unlike the east coast of Australia, where there is a substantial coastal plain between the mountains and the sea, Brazil has little or no coastal plain. There are four mountain ranges in this region, the most well known to orchid growers being the Organ Mountains (Serra dos Orgãos). About 80% of Brazil's orchids, amounting to over 2000 species, are found in this area of sub-tropical forest.
The climate in these mountains is relatively mild, with warm, wet summers and cooler, dry winters. All of the orchids found here can be grown under intermediate glasshouse conditions and some can be grown in a 'cosy' shade-house . Orchids found in the Organ Mountains or in adjacent mountain ranges include many cattleya species, all the known sophronitis species and many oncidiums, promenaeas, maxillarias and miltonias.
Apparently many species can be found growing in national parks only a short distance inland from Rio de Janeiro. Some of the orchids from this region that I grow without heat include Oncidium enderianum and O. forbesii, Miltonia spectabilis, Laelia pumila (syn. Sophronitis pumila) and Maxillaria porphyrostele.
Another more specialised orchid habitat in Brazil is the campo cerrado or woodland savannah found on an extensive plateau (altitude 1000 m) that extends inland from the above rain forest towards the capital city, Brasilia. Many of the rupiculous (rock-loving) laelias (recently transferred to the genus Sophronitis) are found on rocky hilltops in this area. These orchids often grow in full sunshine, where they bake during the day and then recover under the influence of mists and fog at night. Not surprisingly, because of their specialised requirements, these "laelias" are more difficult to grow than the true Laelia species found in Mexico.
Brazil has provided us with many desirable orchid species. Let's hope that the authorities in that country preserve enough of their natural habitat so that their marvellous orchid flora survives forever.
Thanks to Brian Milligan for letting me include his article in our newsletter.
Shows
The season of shows and open days is fast approaching. Are you interested in visiting to have a look at what other orchid growers are doing? Or perhaps entering some plants in the shows?
Here are the dates of shows, etc as far as we know at this stage. The secretary has more information, including a show schedule, for most of these.
14-15 Aug Port Macquarie
21 Aug Bellingen Valley
27-29 Aug ANOS Newcastle
1-4 Sep Alstonville
2-4 Sep Nambucca Valley
3-5 Sep ANOS Kempsey Speciosum Spectacular
9-11 Sep Coffs Harbour
16-18 Sep Woodburn
18-19 Sep Grafton
2 Oct El Dorado Orchids – Uralba
9 Oct Woolgoolga