Orchid News – March 2010
Home > Orchid News > 2010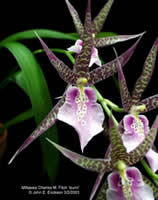 Calendar
4 Mar General meeting – Talk on judging
10 Mar Committee meeting
22 Apr General meeting – Talk by Railways.
29 Apr 2 May Autumn Show at Botanic Gardens
6 May Murray Shergold – talk on Oncidiinae Alliance
1 June Denis Sinclair on Sarcochilus
Seniors Week
The annual Seniors Weeks will be held 21st to 28th March. The aim of the week is to recognise and celebrate seniors.
There will be an opening ceremony in Cavanbah Hall Sunday 21st March. We will have a display and we are looking for flowering plants for our display. If you can help with some plants, or help supervise for an hour or so on this day, please see Don. We will be setting up our display from 9 a.m., and the display will run from 10 until 3.
Sponsors
Most of our 2009 sponsors have agreed to sponsor us again in 2010. Their generous support is very much appreciated. It allows us to provide a range of services for our members, such as a newsletter, guest speakers, prizes, etc and still keep our annual subscriptions low.
What we ask is that you support our sponsors where this is appropriate.
Visit to Dark Star Orchids
It is planned to visit Hans Schaible's Dark Star Orchid Nursery in Bowraville on Saturday 13th Feb. There is limited car parking at the nursery and we can only take about 12 people. We will take bookings at our February meeting, and if there are more than this who would like to go we will organise a second trip.
We are planning to have a picnic/BBQ at Valla Beach at about 1 pm on this day.
April Meeting
Please note that our April meeting will be on 22nd April. This is because the Botanic Gardens Hall is not available on 1st April because of another booking for Easter and the school holidays. Please mark this in your calendar.
Visit to Dark Star Orchids
Members of the society visited Hans Schaible's Dark Star Orchid Nursery in Bowraville on Saturday 13th Feb. Hans has an extensive collection of a wide variety of orchids. He specialises in Bulbophyllums, but has many others. We appreciated the chance to talk with Hans about the orchids and the growing conditions they need.
After choosing the orchids we were going to buy we were treated to a lovely morning tea by Hans, his partner Sue and a friend Julie.
Thanks to Don and Doug for driving.
Ray Clement's Talk
It was good to have Ray Clements as our guest speaker in February. Ray is well known to many and is the owner of Tinonee Orchids near Taree.
Ray spoke about growing Australian native orchids. He emphasised that plants consist of leaves, bulbs and roots. They typically grow in trees in filtered light – we grow them in pots for convenience. Ray now grows most of his in coconut, but knows that some still use bark. He finds that coconut lasts longer and he showed us several plants with very healthy root systems. Suggests it may be worth including some perlite if you want better drainage.
If using slabs they need to be tied tightly so the roots aren't damaged by moving around. Ray then potted some plants and put a couple on slabs to show how he does it.
Black spots on leaves probably indicate the need for more air movement. Can also use Mancozeb or other lime based spray.
When fertilising remember that we are trying to grow flowers, so use a balanced fertiliser – good flowering requires potassium and phosphorus. Ray doesn't favour pellets because their rate of release varies a lot with temperature.
We are fortunate on the coast to have good water with less than 70 ppm mineral content.
Kingianum in England
Some Years ago, Betty Pittaway visited England, and took a couple of flasks of dendrobium kingianum which she gave to the Cheltenham and District Orchid Society. Some have now flowered, and they have sent photos to her.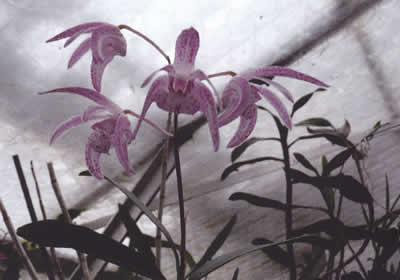 Here is the photo they sent Betty. It shows the flowers of Den. Ray's Dream "Big Red" x Den. Speciosum "Apricot Surprise" in the glass house with bubble wrap.
I notice that the glasshouse where they are growing is presently covered by bubble-wrap on the inside AND the outside to try to protect them from the cold (-10C) and heavy snow they've had in England this year. We are lucky to have such good orchid growing conditions here in the Coffs area.
Growing Softcane Dendrobiums
Part two. Following from last February Coffs Orchid News, this is taken from a chapter by Sandy Anderson – one of our life members in the booklet "Orchid Culture by leading North Coast Growers"
All dendrobiums have the capacity to produce new growths from their nodes (keikis). This is one of nature's ways of ensuring survival of the species. A plant will use this method of reproduction if placed under stress such as when the root system has been damaged or rotted, or when conditions are not ideal. I have seen 2 collections destroyed by using them to provide extra shade for Cattleyas etc. during summer under a fibreglass roof (conditions there were too hot and too dry)
All canes shrivelled and keikis developed all over them. Using any fertilizer containing nitrogen on the plant when they are not in active growth will also produce the same results as will trying to grow them under too much shade.
We grow all our dens in shade house of 30% or 50% shade, even our small plants, although these could be grown under 70% all right. It is important to provide plenty of light for flowering size plants especially in the winter months. In fact from about the end of April they could be left in full sun until the buds appear, but remember that the higher the light level the more attention needs to be given to watering in hot weather. Plenty of air movement around the plants helps to reduce the temperature of the leaf surfaces and prevents burning. During the summer period which corresponds with the "wet" seas in the region where they originated plants require copious quantities of water and as high humidity as it is possible to provide. After the growth has finished in the early autumn, watering can taper off so that by July it should only be necessary to water at 5-7 day intervals if weather is dry, increasing again as the flowers start to develop.
Newsletter
The Coffs Orchid News is published each month. We try to give information about up-coming events, some helpful information about growing orchids and other society news.
The newsletter is distributed to members a few days before the next meeting so people can check minutes, agendas, reports and correspondence, and ask any questions they may have at our meetings.
We e-mail the newsletter to those members where we have an e-mail address, and we post it to everyone else. If you would like it posted as well as e-mailed please let Ed know. Or if you want it e-mailed rather than posted also please let Ed know. Note that the posted copies are not in colour.
Orchidwiz Raffle
The society has now received the Orchidwiz program. It is an encyclopaedia of orchids and has most species and hybrids, together with photos and awards. If you are interested in learning more about the program there is a demonstration at the website – www.orchidwiz.com The program comes with instructions about loading it onto your computer, and there is a help desk available if you have any problems.
We are planning to raffle this to raise funds for the society. Members of the committee have raffle tickets. The program can be purchased for $(US) 259 and there are annual updates available. We are selling raffle tickets for $5.
Agenda for March 2010 Meeting
WELCOME, APOLOGIES
WELCOME to NEW MEMBERS
MINUTES
BUSINESS ARISING
COMMITTEE REPORT
INWARDS CORRESPONDENCE

OSNSW seeking info.
BCU Statements.
Senior Citizens week. Agreed to have a stand at opening on 21st March. Ed to confirm with Barb, Don to organise display.
Friends of Botanic Gardens – newsletter
Friends of Botanic Gardens – account.
2AIR FM – newsletter
Orchids out West – Show on 21st to 23rd May.
MacLean District OS.- Autumn Show (clashes with ours)
Alstonville OS – Show 7-10 April.
ANOS Newcastle – Conference and Show 25-29 Aug

OUTWARDS CORRESPONDENCE

Best wishes to Bob Wheeler
Info to OSNSW
Thanks to Ray Clements
Letters to sponsors

FINANCE
SPONSORS' SPOT
GENERAL BUSINESS

Organising for Autumn Show.
Seniors Week

GUEST SPEAKER. Steve Clemesha talking on preparation of plants for shows.
POPULAR VOTE, TABLE TALK, RAFFLE.
Minutes for Feb 2010 Meeting
President Don welcomed the 30 members and visitors to the meeting. Visitors were Lilian Johnson, Anni Fuad, Pat and Peter King, Dick Cooper, Ron Scott and Lesley Green.
MINUTES. Mvd Sue, Scd Steve That minutes as printed in the newsletter be approved.
BUSINESS ARISING. Ed reported that we have received the Orchidwiz program and we will raffle this to raise funds for the society.
COMMITTEE REPORT. Ed drew attention to the report. No issues raised.
INWARDS CORRESPONDENCE

BCU Statements.
Orchids Australia magazine
AOC – AGM report.
E-mail from Orchidwiz
Request for donation from orchid society in Mexico
OSNSW Newsletter

OUTWARDS CORRESPONDENCE

Thank you letters to sponsors.
Info to neighbouring societies re office bearers and show dates.
Info to AOC as requested
E-mail to Orchidwiz

Mvd Ivy Scd Pam that correspondence be received.

FINANCE. Treasurer Bruce referred to the report in the newsletter. The society continues to be in a sound financial position. Mvd Ron, Scd Norm that the report be accepted.
SPONSORS' SPOT Ed encouraged members to visit Mangrove Jacks who are continuing to be a sponsor in 2010.
GENERAL BUSINESS

Don spoke about arrangements for visit to Dark Star Orchids on 13th Feb. There will be about 6 people who will meet at Tourist information centre at 9.30 a.m.
Eric Collins raised the issue of dividing the hardcane section in the schedule for monthly meetings into phalaenanthe, spatulata and intermediate sections. To be considered by committee.
Don referred to the Senior Citizens week – we will have a display at the opening.

GUEST SPEAKER. Ray Clements, the owner of Tinonee Orchids, was welcomed by the president. He showed how to repot orchids, and talked about Australian native orchids.
POPULAR VOTE was won by Eric and Dot Collins for a beautifully grown Den. Sonia Bom. TABLE TALK was done by Steve Clemesha
Thanks to Ron and Judy, and to Ray Clements, for the donations of raffle plants. The raffles were won by Annie, Silesa, Ron, Sue, Jason, Don, Peter King, Eric, Kay, Dot and Joy.
Meeting closed for supper at 8.20 p.m.
2010 Program
We have been inviting speakers for our meetings in 2010, and the speakers organised so far are:
4 Feb Ray Clements on growing natives
4 Mar Steve Clemesha on preparation for Shows
22 April Railways on services available
6 May Murray Shergold on Oncidiinae alliance
3 June Dennis Sinclair on Sarcochilus
1 Jul TBC
5 Aug Ron Alexander on hybridising natives
2 Sep TBC
14 Oct Danny Bell on flasking
4 Nov AGM.
2 Dec Christmas meeting and annual awards.
Committee Report
The last committee meeting was held at Ed's on 10th Feb. Issues discussed were:
Raffle tickets for Orchidwiz program being printed
Considering purchase of a tent
Agreed to get some raffle plants from Danny Bell
Concern about being locked out of kitchen – have spoken with Brian Lane – think this is now resolved
Possible changes to classes for monthly competition. Looking at combining Oncidium and Odontoglossum alliances and separating hardcane into 3 categories. Will seehow many plants we have benched
Steve C to deputise as secretary for next meeting